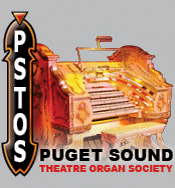 ---
Turchan Residence - 2/12 Wurlitzer
Portland, Oregon
&nbsp
Back to the Northwest Theatre Organ History: Residences page
| | |
| --- | --- |
| | The Turchan Wurlitzer (opus #173) was originally installed in Portland's Majestic Theatre. It was purchased by Paul Turchan in the 1960's and combined with other Wurlitzer, Gottfried and Morton parts to make a two-chamber, 12 rank instrument. |
&nbsp

The Turchan home was a frequent gathering spot for early ATOE meetings and jam sessions. It was also a featured home installation during the 1964 Western Regional and 1966 National ATOE meetings.
&nbsp&nbsp
The expanded instrument required two
blowers, one for each chamber.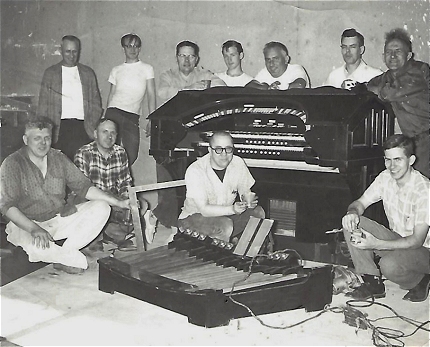 Turchan installation crew, May 1962. From left to right: Dick Chase, Paul Turchan, Dave Markworth, Bob Markworth, Doug Philips, Charles Markworth, Bob Rickett, Jim Monroe, Ted Marks, Dennis Hedberg. Sitting on pedal board - Dick Raupach. Photo courtesy Bob Markworth
&nbsp
After Paul Turchan's death, the instrument sat unused for many years until it was purchased in 1997 by Bob & Michele Rusczyk. Bob installed a portion of the organ in their Vancouver, Washington home. Many of the parts were sold individually. The console went to Art Thompson at Mutnomah Bible College. He later sold it to a buyer in Australia. The swell shades (4 sets) went to Tom Blackwell of Seattle who later sold them to Don Feely of Canby, Oregon.

A young Jonas Nordwall performs for ATOE members at the Turchan home in October, 1964.
---