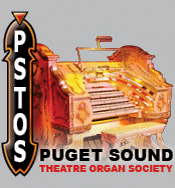 ---
Puget Sound Theatre Organ Society is a non-profit organization furthering the appreciation, restoration and use of the historic Theatre Pipe Organs of the 1920's through education.

Puget Sound Pipeline "online"
is updated frequently by:

Puget Sound Theatre Organ Society
10002 Aurora Ave N, Suite 36 #516
Seattle, WA 98133-9329


If you have questions, suggestions or feedback regarding this site,
or if you would like to request permission to use materials found on this site on another web site or for research purposes, please e-mail the
PSTOS webmaster: Tom Blackwell.
&nbsp
Submissions of historical material and pictures are enthusiastically welcomed!

Contributing Editors:

| | |
| --- | --- |
| Webmaster and Managing Editor | Tom Blackwell |
| Current Events, Pipeline News & Features | Jo Ann Evans |
| Historical Archives and PSTOS Collections | Russ Evans |
Information and images on this site are from the PSTOS Archives which include the extensive collections of Northwest theatre and theatre organ memorabilia donated by Bill Bunch, Eugene Nye, Terry Helgesen, Jim Stettner, Jeff Fox, and others.
&nbsp
All images used on the PSTOS website are believed to be in the public domain. If an owner can provide proof of copyright which would preclude the use of an image on the PSTOS website, images will either be removed or a citation will be added for the copyright owner.
&nbsp
Submissions of historical information and pictures are encouraged. Please e-mail the PSTOS webmaster.
---
Thanks for visiting the PSTOS web site! If you haven't already done so, please sign our Guestbook.
&nbsp
If you're looking for something specific regarding Northwest Theatre Organs, try our Search Engine! All the words on all the pages are searchable with this tool.
---
| | |
| --- | --- |
| | Throughout the site, a small camera symbol is used to indicate the presence of photographs |
The "Pages From The Past" symbol is used to indicate the presence of historic news clippings
---