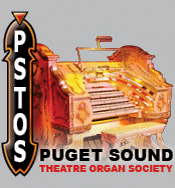 ---
Recordings of Northwest Theatre Organs
&nbsp
Back to the Northwest Theatre Organ Recordings page
&nbsp
Don Simmons - Big Band Jazz
Oaks Park Roller Rink, 4/18 Wurlitzer
Portland, OR
1965, Gamba label D-1015
Ad from Theatre Organ, Fall 1965:
&nbsp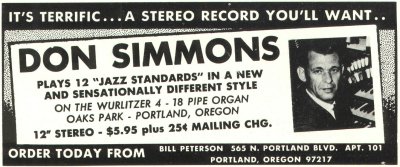 ---
Record review from The Bombarde, Fall 1965:
&nbsp
BIG BAND JAZZ, Don Simmons on the Wurlitzer Pipe Organ, Gamba label D-1015, stereo only, available by mail only from Bill Peterson, 565 No. Portland Blvd. Apt. 101, Portland, Oregon 97217, $5.95 plus 25 cents mailing charge.
&nbsp
Oregon Chapter ATOErs Don Simmons (organist) and Bill Peterson (producer) have Combined talents to present a novel recording of a style of music most pipe organists shun -- jazz. The music is performed on the 4-18 Wurlitzer in the Portland Oaks Park rink (removed from the downtown Broadway theatre in 1955). A far cry from the usual honky, reed-dominated rink organ, the theatre qualities have been retained with the exception of the swell shutters, which gives it something in common with the so-called "baroque' organ. While the absence of a volume control diminishes the instrument's versatility, the lack of such a facility doesn't seem to limit Don Simmons effectiveness or diminish listener enjoyment.
&nbsp
The Simmons jazz is the big band style of the '30s and '40s and fans of that period will find it most palatable as will organ enthusiasts generally, because Don doesn't venture too "far out." We've heard it all before but played orchestrally by the Goodmans, Dorseys, Ellingtons and Shaws, although there's an occasional touch of one famed organ jazz man, Fats Waller.
&nbsp
Running Wild sets the pace for tunes to come with a bright bounce tempo on full combinations in close perspective and with a bit of reiterating treatment second time through.
&nbsp
Mood Indigo sports a medium slow drag tempo, full harmony, full combinations, a clarion solo plus ad lib licks characteristic of instrumentalists improvising around a theme.
&nbsp
The One I Love Belongs to Somebody Else is provided a '20s treatment even to the old-fashioned cymbal accents. Accompaniment is pleasantly staccato.
&nbsp
Up a Lazy River gets the "clipped' rhythm treatment (plus injections of triplets), ensemble reeds, strategically placed cymbal crashes and some "real George' glissando/sneers.
&nbsp
Frankie & Johnny features a "dirty" Kinura'd melody (later trumpeted) punctuated with plenty of grousing from the other "toys in the band" and their comments are not all kindly even though the jazz is. Okay organ blues. Fats Waller would have liked it.
&nbsp
The Lamp is Low features a "trombone" chorus (sounds like the baritone register of the Diapason), one of the fews cuts in this collection offering a "solo."
&nbsp
Polly is a percussion-peckin' novelty in the Nola tradition, which gives the bells a chance to show off effectively.
&nbsp
A Good Man is Hard to Find has lots of variety in registration and imaginative "take-offs." Real growly.
&nbsp
Also heard:
&nbsp
When Your Lover Has Gone, Five Foot Two (some interesting improvisations around the tune), We Three and a "low down" After You've Gone.
&nbsp
This is the first disc featuring solely organ jazz which has come to our attention recently and it's a refreshing diversion from the usual and the expected. Not for the ballad lovers but a definite toe tapper. As for the absent swell boxes, it must be admitted that they weren't missed while this disc was being auditioned, and that's a total of more than a dozen scrapes of the diamond. The 4-18 Wurli sounds good, it's well recorded, the artist knows what he wants and manages to project it effectively.
&nbsp
This will be a special treat for those who enjoyed Don Simmons' concert at the 1964 Regional Convention in Portland and should gather in many more aficianodos.
---