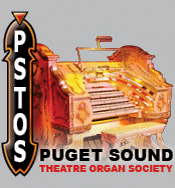 ---
Recordings of Northwest Theatre Organs
&nbsp
Back to the Northwest Theatre Organ Recordings page
&nbsp
Dick Schrum - At the Seattle Paramount Wurlitzer
Paramount Theatre, 4/20 Wurlitzer
Seattle, WA
1966, Relay Records R-101
Ad from Theatre Organ, December 1966:
&nbsp

---
Record review from Theatre Organ, December 1966:
&nbsp

Dick Schrum at the Seattle Paramount Wurlitzer Pipe Organ, Relay Records No. R-101, stereo or monaural (state preference), either type $4.95, postpaid, from Relay Records, 8606 35th N.E., Seattle, Washington 98115.
&nbsp
This is Dick Schrum's second record release (but for two different labels) in a quarter, an accident of merchandising rather than presidential precociousness, we hasten to add (this has been in preparation since February). It is played on a different instrument; the wide variety in the arrangements make it an attractive package even to those who have Dick's Marr and Colton platter.
A fine color shot of the organist and console adorn the front of the jacket while the back has notes by Seattle Times writer Byron Fish which provide info on the artist and credit the Puget Sound ATOE Chapter for the restoration of the 4-20 instrument.
&nbsp
The console comes up to a showy "How About You" that has a repeated between phrase comment, a percussion chorus and a "half tempo" session on a big combination with a pedal cymbal beat, an exciting harbinger of good things to come.
&nbsp
Next it's that oldie revitalized by that girl who screams "Peeeepul"--"Second Hand Rose," played with typical pre-prohibition trappings of syncopated nostalgia and corny riffs.
&nbsp
Irving Berlin's "When I Lost You" always seemed like a fine example of piecing together of bits of other tunes and Dick's revival, played in full 1920's theatre organ splendor, will remind the home tune detective of several other melodies, among them "Stars Are My Windows of Heaven" and "Come Back to Sorrento."
&nbsp
"Satin Doll" features the Wurli's ample supply of reeds. Especially noteworthy are the mellow brass between-phrase "fillers" Dick provides.
&nbsp
"Blue Moon" is a wispy thing, played on often ethereal combinations with an enhancing minor melody change to accommodate a novel harmonization.
&nbsp
There's a big "Radio City" sound in much of Dick's arrangment of "Climb Every Mountain," a tune which has the Wurli alternately making like a huge straight organ and then like the RCMH 4-58, but never "churchie." It's always solid entertainment, and with a dash of the inspirational thrown in for seasoning.
&nbsp
The flip side gets off to a first rate start with an impish "Rum and Burpsi-Booma" which Dick plays for its humorous aspects. He starts out "vamping" as though waiting for the soloist to come running out of the wings, the "soloist" turning out to be a Cuba Libre encased in chilled Glockenspiel and Chrysoglott. Dick does very well in the Latin idiom with a representation of one of those frenzied West Indies trumpeters outstanding.
&nbsp
Balladry triumphs in "Polka Dots and Moonbeams," which features silvery flute accompaniment to the first chorus, then briefly to a full combination and back to the shimmer of a Vox and Concert Flute denouement.
&nbsp
It's back to the '20s for a romantic revival, "Cross Your Heart," which Dick plays with great sincerity (meaning: no attempt to date it with obviously ancient trappings). He makes effective use of a between-phrase figure used elsewhere long ago by Crawford. Nice Tuba obligato.
&nbsp
"Deep Night" is offered as a beguine tempo variation on the well known minor melody, new and different treatment with lots of imagination and dynamic moxie.
&nbsp
A diapason-topped set carries the ball during the first chorus of "Don't Worry About Me," in ballad array. Next it's a slow rhythm application with lots of expression, closing in a subtle roll-off.
&nbsp
Recording is well miked and the surface is unusually smooth and noise free.
---