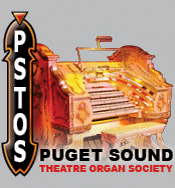 ---
Recordings of Northwest Theatre Organs
&nbsp
Back to the Northwest Theatre Organ Recordings page
&nbsp

Jim Roseveare - In Concert
Oriental Theatre, 3/13 Wurlitzer
Portland, OR
1966, Gamba Records #JI01-R
&nbsp
&nbsp
&nbsp
Ad from Theatre Organ, October 1966:

&nbsp

---
Record review from Theatre Organ, December 1966:
&nbsp
In Concert--Jim Roseveare, at the Wurlitzer 3/13 organ in the Oriental Theatre, Portland. Gamba label JI01-R, stereo only, available only by mail from Bill Peterson, 565 No. Portland Blvd., Apt. 101, Portland, Oregon. Price $4.95 plus 25c mailing charge.
&nbsp

| | |
| --- | --- |
| | Here's another brave soul with the courage to release selections on records taped during an ATOE concert. Jim Roseveare, a university student, claims he isn't a professional musician. He most certainly qualifies, as this biscuit proves. He's also a severe self critic. Of this recording he says, "If I flub notes--for which these is no excuse--and play things too fast, be sure to point these things out" (in the review). |
&nbsp
Sorry, Mr. Roseveare, we didn't pick up much to wail over in ten playbacks. To the contrary, the talent exhibited puts Jim easily in the upper ranks of newcomers to the recording field. And anyone who can come off this well on a record made in one "take" before an audience--well, let's look at the record.
&nbsp
Jim brings the console up to a lively Let's Dance peppered with Posthorn riffs then bursts briefly into broad waltz tempo just before a 4/4 closer followed by applause. An introspective and brooding Bad and the Beautiful comes close to the magic of Jim Melander's arrangement of Foggy Day, about as high a rating in the fantasy field we can give. Wonderful phrasing. It's back to accelerated tempo rhythm for Deed I Do and punctuation from percussions and Posthorn, while a Krumet-sharp combination carries the ball.
&nbsp
One of Mr. Roseveare's special talents is in musical mimicry and when his subject is Jesse Crawford something wonderful happens. Three of the tunes on the disc are Crawford recreations, this one being an otherwise forgotten sobber, Broken Rosary, which is a good example of Mr. Roseveare's demands on himself. It's just plain gorgeous "Jesse" balladry, especially when the next one is the late maestro's memorable Miss You. Impeccable phrasing is evident throughout the record but nowhere is it demonstrated so effectively, the Crawford originals supply a yardstick.
&nbsp
Romantic Guy I provides a thunderous and jazzy closer for side one and side two starts with a big organ Ridin' High which includes a brief conversation between Tibia and Posthorn, tempo changes and a fine "Paramount-Publix" finale.
&nbsp
Next it's back to the '20s for a revival of Crawford's Blue Twilight which seems slightly fast but otherwise sound "JC." The recreation of the Crawford registration is unusually close considering that Jesse's records were "miked" at close perspective in a studio while Jim is working in a theatre. Incidentally, Dennis Hedberg's fine maintenance of the Oriental organ is a big factor in the quality of the sound presented here.
&nbsp
True Blue Lou is a "medium Fox Trot" ballad while Nochecita comes through as a beguine with a tango bridge. Variations on a theme are evident in Once in a While, which is given a sentimental ballad treatment soaked in Tibia honey.
&nbsp
The closer is again a "console riser" in swinging tempo, lots of riffs and variations -- I Feel a Song Coming On.
&nbsp
Engineering and surface quality are excellent.
---