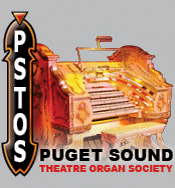 ---
Recordings of Northwest Theatre Organs
&nbsp
Back to the Northwest Theatre Organ Recordings page
&nbsp
Harold Ramsay - At the Orpheum Wurlitzer
Orpheum Theatre, 3/13 Wurlitzer
Vancouver, B.C.
1964, Tibia Records
Record review from The Bombarde, December 1964:
&nbsp


---

&nbsp
HAROLD RAMSAY AT THE WURLITZER PIPE ORGAN IN THE ORPHEUM THEATRE, VANCOUVER.
&nbsp
Available only by mail from Tibia Records, Box 810, Blaine, Wash. Specify "Master of the Console, No. 2". Available in monaural ($4.40) and stereo ($5.40).
&nbsp
This is another in the ambitious series undertaken by Tibia Records, an outfit fully dedicated to recording all types of theatre organs and organists and whose recently launched record club for theatre organ enthusiasts deserves the support of every last T. O. buff.
&nbsp
The instrument is a 13 rank style 235 (modified) with a goregous Trumpet (or Tuba). Mr. Ramsay, a veteran of US silent film scoring and BBC (England) broadcasting, is a smooth artist who gets a lot from a medium size instrument. He sticks to the full combinations but manages to project the organ's major reed, a brassy Trumpet, or Tuba.
&nbsp
Rhapsody in Blue. Ramsay's radio theme on the BBC for years, this comes off neatly, just the middle theme.
&nbsp
Calgary Stampede March. If you enjoyed Gaylord Carter's "Covered Wagon" theme (Westward Ho!), you'll like this one. There's a close resemblance.
&nbsp
Caprice Viennois. Fritz Kreisler's fine old WLW Moon River theme, slightly fumbled in spots but still one of the best tunes on the disc.
&nbsp
Sleepy Lagoon. The Trumpet takes the initial chorus. Played somewhat fast for dreaming, the artist turns instead to comedy with his off-key whistling effect.
&nbsp
Ain't Misbehavin'. The Trumpet gets the initial solo again, playing in polite Fats Waller style.
&nbsp
Honey Suckle Rose. Again in the Fats Waller idiom, this one gives a reasonably accurate representation of the late rotund Harlem silent film organist who made such a lasting impression on the entertainment world.
&nbsp
When Day is Done. A good representation in the second chorus of the Paul Whiteman 1927 Victor record arrangement with Henry Busse on Trumpet. Comes off perfectly.
&nbsp
Falling Leaves. Just a touch of the way pianist Roger Williams sprinkles leaves, then a lovely baritone Tuba solo effect with interesting right hand figures. One of the most effective and satisfying renditions on the disc.
&nbsp
Swanee! Harold Ramsay gets a lot from medium size organ for this one, a reading loaded with the spirited type of performance Al Jolson would give the affirmative nod to. Ends abruptly.
&nbsp
Fantasia Mexicana. The usual Mexican folk tunes ending in a loud "thud".
&nbsp
Kamenoi Ostrow. Silent movie music often used for atmospheric travelogues showing mountains. Mr. Ramsay sticks closely to Anton Rubenstein's notation, giving the solo trumpet a workout on the melody. It's his closest approach to the classics on the disc and one well worth the hearing.
&nbsp
If this is a sample of things to come from Tibia Records, then it should be a signal for organ buffs to support this pipe organ-dedicated group to the hilt. Mr. Ramsay's efforts are well worth adding to one's collection.
---