---
Don Wallin (1947-2012)
&nbsp
Back to the Northwest Organists page

Don at the PSTOS Haller Lake organ
Don was born October 30, 1947. He was a talented musician whose career began as a piano and organ retail sales specialist. Later, he was introduced to the theatre organ at Tacoma's Temple Theatre, and after that he played for Cheney Stadium, Big Bob's Pizza in Federal Way, Steve's Gay 90's on South Tacoma Way, Big Top Pizza in Sacramento, Pizza Machine in Stockton, and Pizza, Pipes & Pandemonium in Groton, Connecticut.

Along the way Don performed for radio and TV specials, news programs, and organ concerts "all over", in addition to teaching and serving as a church organist. Don also taught a PSTOS-sponsored series of class organ lessons, as well as private lessons, and was regularly heard for years as Staff Organist at Pizza & Pipes in Tacoma.
Don had a thriving organ repair business for church pipe organs in the vicinity. Ron Hemmi helped him in this work. Together, Don & Ron did all the organ maintenance and repair work the last dozen years or so at Pizza & Pipes in Tacoma, ending with teh fire on August 3, 1999. They also completed the original 16 rank theatre pipe organ installation at the Merlyn Johnson residence in Tacoma.
Don was a dedicated theatre pipe organ musician as well as a great story teller. You knew you were in for a good time eating pizza while Don was playing.
According to Dick Daubert, owner of the Tacoma Pizza & Pipes, Don acquired and installed a Horn Diapason for the restaurant. It provided a softer sound and gave the organist more to work with. Don was also the driving force behind installation of the acoustic ceiling at the restaurant to reduce reverberation of the organ as well as crowd noise.
&nbsp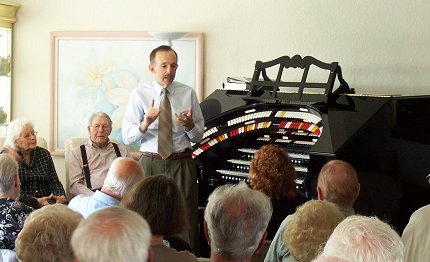 Don speaks to the audience at Merlyn's Johnson's August 2005
Two pics of Don at Tacoma Pizza & Pipes

PSTOS Pipeline newsletter promo for Don's concert at the Seattle Paramount Theatre November 15, 1992
---
| | |
| --- | --- |
| Don at Merlyn Johnson's | At Haller Lake Community Club |
---