---
Wally Stevenson
&nbsp
Back to the Northwest Organists page
Wally recently celebrated his 65th year as a keyboard artist. After seven years as a piano recitalist, his interests changed permanently to the theatre pipe organ. Wally was one of the original founders of the Seattle chapter of ATOE around 1953 and was one of the first Seattle residents to install a theatre pipe organ in his home in the 1950's.
&nbsp
Wally continues to perform regularly around the Pacific Northwest. He was concert artist at the Mt. Baker Theatre in the Fall of 1997 and was featured organist for the 1997 and 2003 PSTOS Holiday Parties at Haller Lake Community Club.
Wally began studying piano at the age of 4. By the age of 7 he was already being asked to play engagements. He continued his piano studies in the Puget Sound area for the next 20 years, participating in master classes and private lessons with E. Robert Schmitz. In the early 1940's, Wally began working with the organ and had an opportunity to work briefly with Ethel Smith. His varied performance work included church services, night clubs and over 6000 hours of touring performances with the USO and United Nations Council, WWII. &nbsp


Wally at the Mt. Baker Theatre Wurlitzer
rehearsing for a recent concert

In 1968, Wally semi-retired from organ playing to join the growing data processing profession but he did continue to provide lessons for a small group of private organ students. In 1986, Wally started his own software design and consulting firm which he operated for ten years. In 1996, Wally returned to theatre organ performing and he has made many appearances at Northwest venues.
&nbsp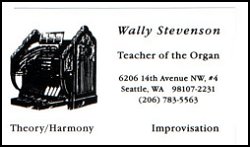 &nbsp

---