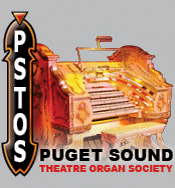 ---
Prof. Hokum W. Jeebs
Seattle, Washington
Hokum W. Jeebs, Freelance Vaudevillian
| | |
| --- | --- |
| Hokum at The Mighty Wurlitzer | The tradition of the traveling vaudeville performer lives on in the unlikely and delightful form of Hokum W. Jeebs. Hokum started his professional career falling off piano benches for laughs at community talent shows in his native Syracuse, New York. A degree in Music Education led to a job teaching public school music. On weekends he played ragtime in bars, directed musical theatre and was a church choir conductor. Four years later he packed his trunks and headed west to the streets of San Francisco. There he developed a street show in the style of a classic vaudeville act. Hokum has performed that act in thousands of places all over the United States and abroad. His trunks moved to Florida where he plied his trade with Disney World, dinner theaters and cruise ships. |
Contact Hokum:
Hokum W. Jeebs
9309 44th Ave SW
Seattle, WA 98136
(206) 937-6048 &nbsp (206) 295-0417
hokum@comcast.net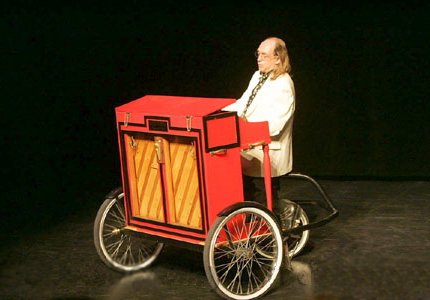 PIANO ALA CART. A Vintage Strolling Attraction. Available for Fairs, Festivals and Celebrations

In 1987, Hokum W. Jeebs Piano Ala Cart rolled onto the scene and has been featured at numerous festivals and fairs across North America. In 1992, Hokum settled in Seattle and founded Hokum Hall, a venue devoted to the arts of vaudeville, ragtime and silent movies, featuring a 1929 Mighty Wurlitzer Theatre Pipe Organ. In 2003 Hokum returned to his traveling roots and has appeared at many odd places. In his spare time, he has become a noted Italian chef.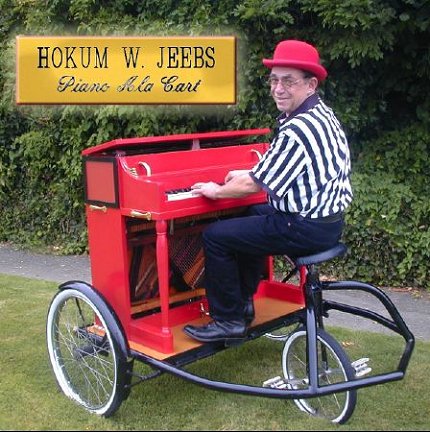 Piano Professor Hokum W. Jeebs plays and rides a three-wheeled cart with brightly colored piano animating your attraction with the happy sounds of Ragtime!
&nbsp
Hokum W. Jeebs speaks about Moving Pianos
&nbsp
Every pianist is at the mercy of the piano itself. Most often, we are not playing our own instruments. Early in my career, I found that if I provided the piano, there would be more places to play. My first professional gig was at a pianoless restaurant. In went my upright piano (ouch!) and I got the job. Later, I found a 64 note mini-piano that was a lot easier to move in and out of venues. Inevitably, piano moving was the hardest part of the gig.
&nbsp

One day I was asked to play at a party in a three story walkup apartment. Even carrying the small piano was out of the question. That night, I reduced my act to fit a 25 note toy piano, and my career as novelty music act (Hokum W. Jeebs, Eccentric Music Revue) was born.
&nbsp
While playing Honky Tonk piano at Walt Disney World in 1985, I was asked if I wanted to play a Bicycle Piano. A Bicycle Piano? Hard to imagine I said yes, got the job at EPCOT Center and at last I found a better way of moving pianos! The Bicycle Piano at WDW was not meant to be played and ridden at the same time, but I figured, why else have a piano on a bicycle? Another career was born: piano dancer.
&nbsp
The next year I was sent to Tokyo Disneyland where they enjoyed the Bicycle Piano so much, they had two players, a tuner/technician and a staff to keep it going non-stop in their equivalent of Main Street USA. I was riding and playing seven hours a day piano as aerobic exercise.
&nbsp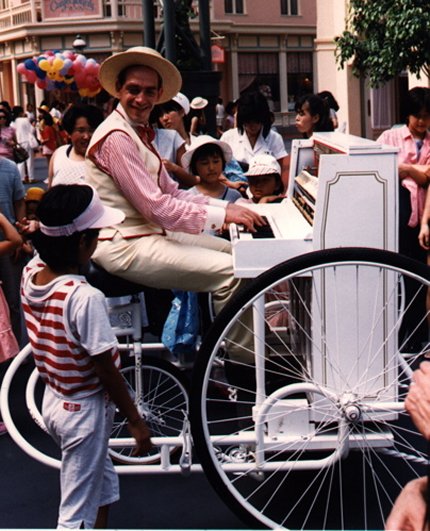 Hokum at Tokyo Disneyland
&nbsp
Returning to the US, I decided to build my own unit and market it around the country. My good friend Tom Roberts in Syracuse, New York built the new improved Bicycle Piano frame in his shop, Tom's Mechanical Emporium, in 1987. I was on the road again, literally. The first time I took it down the street in front of the Emporium, it stopped traffic.
&nbsp
Bicycle Piano was just not descriptive enough. Lots of other names came to mind: Bicycle Built for Tunes, The Piano-mobile, The Roller Piano, The Piano Roller,and even The Minstrel Cycle. I chose Piano Ala Cart partly because, well, it was a Piano on a Cart, but also because it described the function of request pianists everywhere, to provide little bits of music on demand Ala Cart.
&nbsp
From the moment the unit first put rubber, ebony and ivory to the road, I was bringing live piano music to places it usually never went, an odyssey of smiles. mirth and fellowship using the universal language of music.
&nbsp
The Piano Ala Cart's Many Colors
&nbsp
Since the Piano Ala Cart first appeared it has gone through a metamorphosis of colors and sonic accessories. In 2004 it was time to give the Piano Ala Cart a new look and sound after thousands of miles and millions of notes. The piano, a 64-note Winter Melody Grand, was fully rebuilt by Eric Shoemaker, master piano restorer. Handy man extraordinaire Bob Powell gave the case and cart a new look and some necessary mechanical improvements. Keith Terhune of Paradox Studios recorded this instrument in his living room, and Thaddeus Spae of Bards Cathedral Recording did the CD post-production. I would like to thank Anita Shaffer for her amazing continuing support. Additional thanks go to Shelley Switzer, Dick Finkel, Doug McKechnie, Ted Killmer, Bob White and my numerous supportive friends around the continent who have kept the piano rolling. HWJ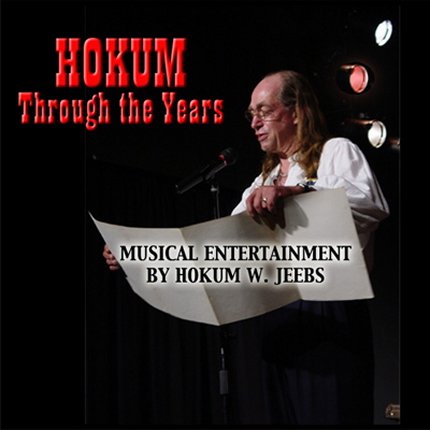 ---