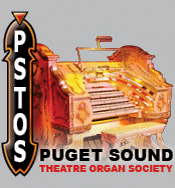 ---
Renaldo "Ron" Baggott
&nbsp
Back to the Northwest Organists page

Ron Baggott (right) and Don Moore
Renaldo "Ron" Baggott played at the opening night of the Paramount (originally the "Seattle") Theatre in 1928. Ron, together with organist Don Moore made up the famous "Ron & Don" duo. They started out as local artists playing duo organ in Seattle neighborhood houses, and tried out for the Seattle Paramount in 1928 and were given the job as opening organists.
&nbsp
Ron & Don eventually traveled east and played many of the big houses on the east coast until the market for theatre organists pretty much collapsed by about 1932.
&nbsp


More information about Ron & Don at the Seattle Paramount Theatre
&nbsp
Long after the silent era, Ron continued to be active on the theatre organ scene. He played a program at the Paramount in the early 70's and mentioned at that time that he hadn't walked on the Paramount stage for 40 years. He was a very close friend of Sandy Balcom.
&nbsp
<! -- RE conversation 4/99 --> Ron was also organist at a Magnolia church where a former Aeolian residence organ was installed. Owing to his theatre roots, Ron quietly swapped several Aeolian ranks for Wurlitzer ones until the organ had a Gross Flute (Tibia), Regal (Kinura) and other typically non-churchly sets!
&nbsp
In October 1981, PSTOS sponsored a special concert at the Paramount featuring Ron on newly refurbished (for the 1981 ATOS National Convention) Wurlitzer.
&nbsp
Ron also performed at an August 1988 benefit concert at Wenatchee's Liberty Theatre to generate funds for the relocation of the organ to the N. Central Washington Museum.
---