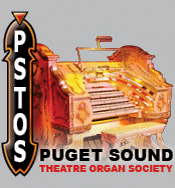 ---
Jonas Nordwall
Portland, OR
&nbsp
Back to the Northwest Organists page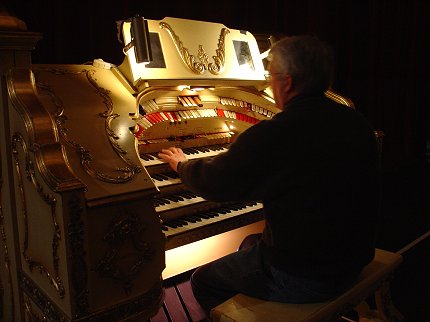 Jonas at the Seattle Paramount during a practice session, April 2005
&nbsp

Jonas Nordwall is an internationally renowned virtuoso organist equally skilled in both traditional classical and modern/popular schools of musical performance. He has performed in North America, Japan, Europe, and China and has made eight concert tours to Australia. Nordwall is the only organist to play a public recital on the famous concert organ in Sydney's Town Hall to an audience over 2000 that was also broadcast by the Australian Broadcasting Company. In 1999, he was an adjudicator and guest recitalist for the Swiss International Organ Competition in Geneva, Switzerland.
&nbsp
Nordwall has performed numerous programs on the world famous Speckles outdoor pipe organ in San Diego's Balboa Park for their International Artist Series.
&nbsp
He has over 30 highly acclaimed recordings on a variety of labels. His recordings are frequently heard on the syndicated radio show, "Pipedreams". Notable national television appearances include the "Today Show" and "Good Morning Australia."
&nbsp
A Portland, Oregon native, Nordwall's first musical studies began at age 4 on the accordion. Besides Portland teachers Joe Parente and Eileen Hagen, he tutored with Charles Magnante and Anthony Galla-Rini, two of the twentieth century's most famous accordionists. At 16, Nordwall performed for Sweden's King Gustav Adolf.
&nbsp
His studies expanded to piano and organ at age 10 with Portland teacher, Goldie Pos. In 1970 Nordwall graduated with a Bachelor of Music Degree from the University of Portland. His piano, organ and orchestration studies were with Arthur Hitchcock, a former staff pianist and organist for 20th Century Fox Studios. Nordwall's additional classical organ studies were with Richard Ellsasser, Canada's Frederick Geoghegan, and Richard Purvis, of San Francisco's Grace Cathedral.
&nbsp
Appointed in 1971, Nordwall is the organist for Portland's First United Methodist Church and assumed the Director of Music position in 1990. There he oversees one of the finest music ministries in the United States. He has played for United Methodist Church General Conferences, other international church gatherings, the American Choral Directors Association conventions, and regional conventions for the American Guild of Organists.
&nbsp
As organist for the Oregon Symphony Orchestra, Nordwall was a soloist for several concerts and recorded with the orchestra conducted by James DePriest on the Delos label. Other solo orchestral appearances include the Vancouver, B.C. Symphony Orchestra, Portland Festival and Chamber Orchestras, Vancouver, Washington, Symphony Orchestra, the Peter Britt and Cascade Music Festivals. Most recently he was the featured soloist with the Silicon Valley Symphony (former San Jose Symphony).
&nbsp
Beginning in the mid 60s, Nordwall was one of few organists professionally playing theatre pipe organs. He was the organist for Howard Vollum Estate (co- founder of Tektronix) and later was the Senior Staff Organist for the Organ Grinder Corporation, performing in both Portland and Denver, Colorado on custom designed Wurlitzer Theatre Pipe Organs in lavish restaurant settings. Since 1966 he has been a featured artist for many American Theater Organ Society national and regional conventions. The societies' "Organist of the Year" Award was presented to Nordwall in 1987. He is the principle coordinator for the ATOS Youth and Adult Educational Theater organ Summer Camp Programs.
&nbsp
In addition to his performing career, Nordwall has been a major influence in the latter 20th century design and manufacturing of both pipe and electronic organs. He was with the Rodgers Organ Company for over 30 years and presently an artist for the Allen Organ Company.
&nbsp
Recent major reviews stated "his performance. . . was a blockbuster . . ." The Oregonian May 2008
&nbsp
"Nordwall, a real grandmaster of the organ arts" San Jose Mercury News March 2009.
&nbsp

---
A number of Jonas Nordwall recordings are available from:
&nbsp

---

Jonas' performance on April 4, 2005 helped to raise over $8,000 for the Paramount's organ restoration fund.
---