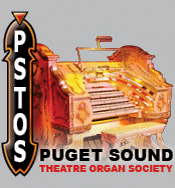 ---
Gerry Gregorius ( - 1995)
&nbsp
Back to the Northwest Organists page

Gerry at a Columbia River
Organ Club (CROC) event
Gerry was a very popular Northwest performer. Although he primarily performed in the Portland/Vancouver area, he also visited Seattle from time to time. His duo presentations with Kurt Von Shakel were enjoyed by many audiences. In March 1987, he performed at Pizza & Pipes restaurant in Bellevue.
&nbsp
Gerry died of cancer on April 18, 1995. A memorial service was held at Rose City Methodist Church in Portland.
&nbsp
Between 1969 and 1990, Gerry had the Style B Wurlitzer originally installed in Portland's Chaldeen Theatre in the basement of his Portland home.
---