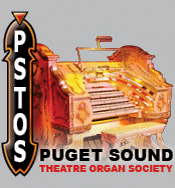 ---
Wenatchee Valley Museum & Cultural Center- 2/9 Wurlitzer
Wenatchee, Washington
127 S. Mission St.
(509) 664-3340
&nbsp
Driving Directions
&nbsp
Back to the Northwest Public Theatre Organ Installations page

Museum stage showing piano, pipe chambers and Wurlitzer console
&nbsp


The museum is on the site of the old Post Office. The Wurlitzer organ was originally from the Wenatchee Liberty Theatre. Presently a 2/9, the instrument was rebuilt by Balcom & Vaughan, refinished and restored. A "Save the Pipe Organ" drive in Wenatchee solicited public contributions to offset the over $60,000 cost of its total rebuild and installation.

&nbsp
The instrument was maintained for many years in its original setting at the Liberty Theatre by the late Dave Gellatly. Dave and his wife Brownie offered the instrument to the museum shortly before he died.
&nbsp
The museum has concert seating for 175.
&nbsp

| | |
| --- | --- |
| Main chamber | Solo chamber |
&nbsp
The ranks are as follows:
Tibia, Flute, String, String Celeste, Vox Humana, Tuba,
Diapason, Clarinet & Kinura.
&nbsp
The museum focuses on North Central Washington history, including agricultural exhibits, it is also home to the Quadrium Performance Center, in which is installed the famous old Wenatchee Liberty Wurlitzer.
&nbsp
The organ is currently maintained in excellent shape by Bill Starkey of Wenatchee. He and Herb Sinclair have recently installed an automated player system.
&nbsp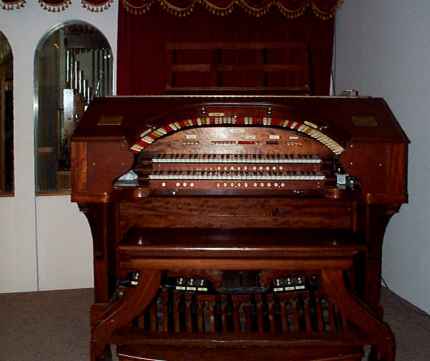 Two-manual Wurlitzer console. George Perks photo, 1998
&nbsp

---
Visit the Wenatchee Valley Museum & Cultural Center's web page:
&nbsp
http://www.wenatcheevalleymuseum.com
---
The following comments are from PSTOS member Dave Schutt via the PIPORG-L Internet mailing list:
&nbsp
"They have installed the 1918 Wurlitzer that was in the Liberty Theater in Wenatchee. (Note: this information disagrees somewhat from the information in Judd Walton's listing.) According to Bill Starkey, who takes care of the organ, it started life as a 2-7: Tuba (to 16'), Diapason, Clarinet, Vox, Flute, VDO and Viol Celeste. All in one chamber with the bittiest and bitiest (neither word in my spell checker :-) strings *YOU EVER HEARD*. Notice there was no Tibia. Sometime later, Sandy Balcom added a Tibia Clausa and a Kinura (cut off Wurlitzer Vox Humana) on a *ventil* chest. These ranks, along with the Tuba which was also moved onto the ventil chest, were installed on the other side of the theater. In its museum installation, a harp has been added to the organ. A Trumpet is also in the process of installation."
&nbsp

---
Wenatchee's mighty Wurlitzer lives again
Excerpt from The Seattle Post Intelligencer, January 1988 (pp B1,B3) by Don Tewkesbury:
&nbsp
WENATCHEE - last fall it was just a wheezy old organ. Now it's a piece of history, a Wurlitzer theatre organ with a dazzling array of keys, levers, pads and buttons that can evoke everything from villains and heroines to galloping horses.
&nbsp
As part of the state Centennial Celebration, the 1919 pipe organ that resided in the Liberty Theatre since 1919 has been restored at Balcom & Vaughan Pipe Organs Inc. in Seattle at a cost of about $60,000. It will be installed in the North Central Washington Museum in early February.
&nbsp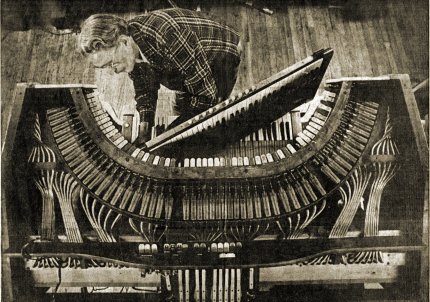 Frank Hutchins at work on the console during the restoration
&nbsp
"We want to use the organ in the museum in connection with silent film programs, presentations of live melodramas and concerts," museum director Keith Williams said.
&nbsp
"It's nostalgia for older people and it'll be a highly educational experience for kids who never heard one - especially played in conjunction with a silent movie."
&nbsp
Unlike a standard church organ, the theatre organ also has numerous sound effects, such as galloping horses, train engines, sirens, whistles, gun shots and drum rolls, he noted.
&nbsp
"We're preserving something for the community that otherwise would have been lost," Williams said. "Very few museums house an organ of this vintage."
&nbsp
The organ wasn't being played in the theatre, he said. It was offered to the museum last February by Dave Gellatly, who retained ownership of the organ when the theatre was sold in the 1970's. The museum decided in July to take it.
&nbsp
"It's the museum's main Centennial thrust and is the largest Centennial project in the community," Williams said.
&nbsp
Even with extensive volunteer labor, the cost of moving the huge Wurlitzer organ out of the theatre was about $15,000. Williams said.
&nbsp
Refinishing and restoring all of the aged mechanisms cost $25,000 to $35,000.
&nbsp
Another $10,000 to $20,000 will be spent later to turn the museum's existing multi-purpose room into a theatre setting with more than 150 seats, Williams said.
&nbsp
Funds for the project were raised by a "Save the Pipe Organ" drive that solicited public contributions.
&nbsp
At a fund-raising concert at the Liberty Theatre in mid-August the organ was played by Gellatly, local professional organist Brad Miller, and Seattleite Ron Baggot, who once performed in vaudeville as half of the team known as "Ron and Don."
&nbsp
The organ restoration work is Wenatchee's major Centennial project besides the staging of the state finals of the Centennial Winter Games, which will be held Feb.23-26 in the Wenatchee, East Wenatchee and Leavenworth areas.
---