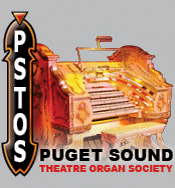 ---
Show Box Club - 2/8 Wurlitzer
Seattle, Washington
1426 1st Avenue, near Pike
Organ installation timeframe: 1943 - 1960
&nbsp
Back to the Restaurants, Taverns & Social Clubs page

Show Box Marquee c. 1940's featuring Eddie Zollman and Eddie Clifford!
The Show Box Club was a popular dance hall in the 1940's and 50's. A 2/8 Wurlitzer was installed by Balcom and Vaughan in 1943. This instrument was originally from North Bend's Liberty Theatre.
&nbsp
In 1960, the organ was sold to Don French who lived in South Seattle. In 1970 it went to Brian Ingoldsby and was installed in a Tacoma Restaurant, Steve's Gay 90's.

Popular Northwest organist Eddie Zollman played the Show Box Club organ during WWII along with his dance band. Guest showpeople during this time included Duke Ellington, Paul Whiteman, Jimmy Durante, Sally Rand, and Sophie Tucker.
&nbsp
The Show Box organ was equipped with two consoles, one of which was "Balcomized" (a two-manual converted to a three).
&nbsp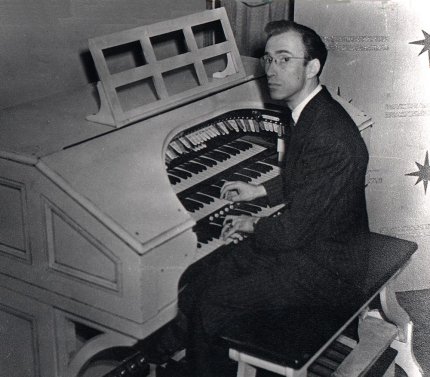 Eddie Zollman at the Show Box, date unknown.
&nbsp
Rhodes Department Store organist Harry Reed also played the Show Box Wurlitzer.
&nbsp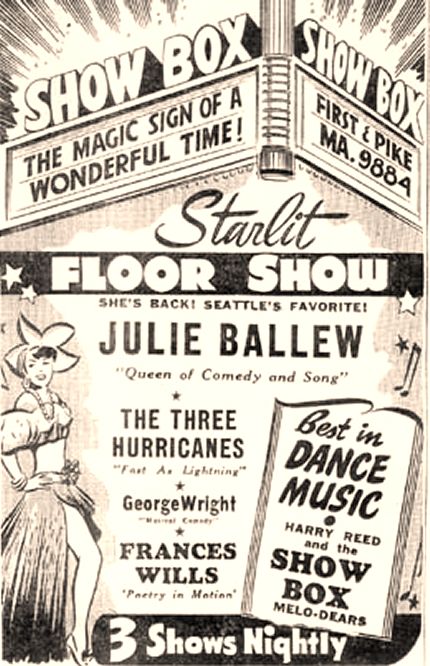 "HARRY REED and the SHOW BOX MELO-DEARS," date unknown
---
Today, the Show Box Club still operates as a venue for various pop/rock artists and comedy shows.

www.showboxpresents.com
---

Article in the Seattle Star newspaper - Monday July 24, 1939, courtesy Brian McFadin, Showbox General Manager.
&nbsp


---