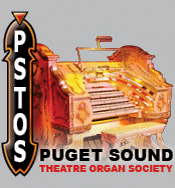 ---
Rolladium Skating Rink - 3/10 Wurlitzer
Seattle, Washington
Organ installation timeframe: 1952 - 1960
&nbsp
Back to the Skating Rinks main page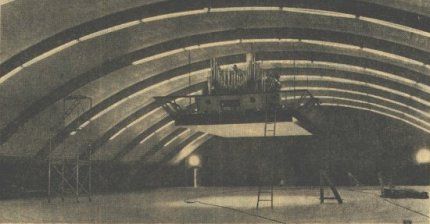 Rolladium rink just prior to its opening in February 1953.
&nbsp
The Rolladium building was very unique in its use of laminated trusses and zeon lighting. At just over 26,000 square feet, the building could accomodate several hundred visitors. Music was supplied by a Wurlitzer organ suspended from the center of the ceiling.
&nbsp
The Rolladium Wurlitzer was originally installed December 1924 in Long Beach, California as opus #977, a Style D. According to the Judd Walton Opus List, the instrument was repossessed by the Wurlitzer company and re-sold in 1933 to the Arcade Theatre in Los Angeles.
&nbsp


Balcom & Vaughan ad in local newpaper, ca. 1953
In 1934, the organ was moved to Spokane radio station KFPY where it gained a three-manual console. In 1953, the organ found its way to the Seattle area and was installed in the Rolladium Skating Rink by Balcom & Vaughan.
&nbsp
The rink opened on February 14, 1952 and was located in the University area. At the time, it was the only roller skating rink operating in Seattle. Mahon Tullis was the popular rink organist.
&nbsp
In 1960, the organ was purchased by Bill Carson who installed it in his Bellevue home.
&nbsp
Following Bill's death in the early 1980's, the organ was purchased by Jerry Gould of Maple Valley minus the Post Horm rank that was sold to Ted Tarling of Burnaby, British Columbia.
&nbsp

| | |
| --- | --- |
| Rolladium owners, Murphy and Bergquist | The Rolladium was owned by O.G. Murphy and Ivar Bergquist. Bergquist came to the United States from Sweden in 1926. He was the former owner of Century Woodcraft, and made construction and building his life-time career. Murphy was a native of Washington state and lived in Bremerton. He was a building contractor specializing in custom homes. He previously managed Vasa Roller Rink near Lake Sammamish. |
---