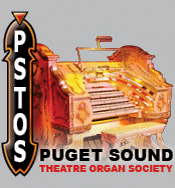 ---
Orpheum Theatre - 3/13 Wurlitzer, Style 235 "Special"
Seattle, Washington
Westlake & Stewart
Organ installation timeframe: 1927-1967
&nbsp
Back to the Washington Original Theatre Installations page

Orpheum Theatre, c.1936
There were two locations for the Orpheum Theatre:
&nbsp
3rd & Madison. Opened May, 1911.
&nbsp
Westlake & Stewart. Opened on August 28, 1927. The theatre was located on the site of the current Westin (originally Washington Plaza) Hotel (built in 1967).
&nbsp
This photo, taken in 1936, shows the enormous signage atop the new Orpheum building advertising VAUDEVILLE and PHOTOPLAYS. Photo: Seattle Municipal Archives Photograph Collection.
&nbsp
The "New" Orpheum Theatre was designed by prolific Northwest theatre architect B. Marcus Priteca. The interior was probably his most successful, certainly the fanciest.
The Orpheum Wurlitzer was a Style 235 "Special," opus #1674. It was installed in the Summer of 1927. According to those who heard it, the organ was never large enough for the auditorium. A "twin" of this organ was installed in the Vancouver B.C. Orpheum Theatre.
&nbsp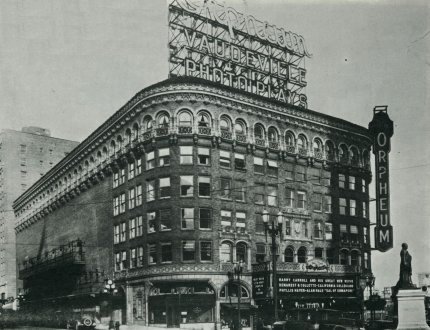 Orpheum Theatre building, c.1928
&nbsp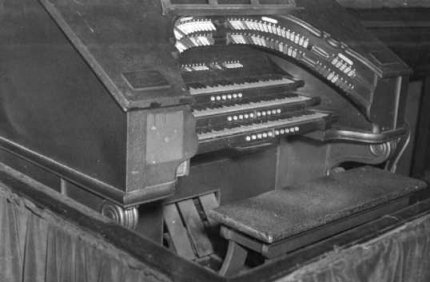 Orpheum console while still in the theatre, date unknown
&nbsp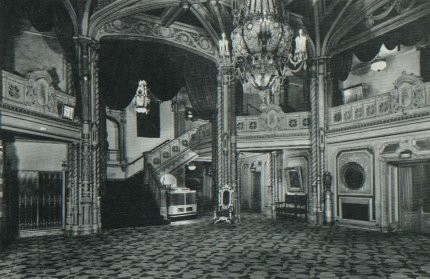 Ornate lobby
&nbsp

| | |
| --- | --- |
| Elaborate proscenium detail | Auditorium, opening week |
&nbsp
Note the crystal "Banjo" fixtures in front of each organ grill. They were 54 inches in length.
&nbsp
According to Jeff Fox of Bellingham, Lucille Bussert was one of the organists at the Orpheum in the 1920s.
&nbsp
In later years, the Orpheum sported a fancier entrance marquee and the building-top signage was leased to various vendors including Almond Roca!
&nbsp


Orpheum Theatre, c.1947
&nbsp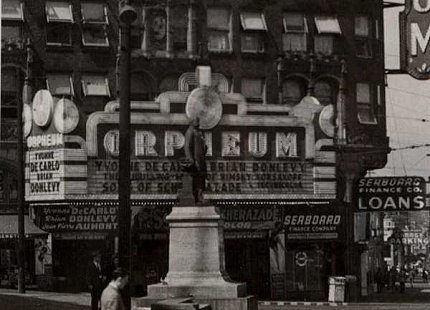 Marquee, c.1947
&nbsp


Orpheum marquee, c.1953
The fancy marquee shown in these two pictures was not original. It was added in the 1940's. The 1920's automobiles in the smaller picture were part of a 1953 "Golden Jubilee" celebration for the Seattle Symphony which was headquarted at the Orpheum for many years.
&nbsp
<! -- PL V10 No6, pp4-5 --> In the 1960's, the stage was bricked off from the auditorium making it impossible to have stage shows of any kind.

Street scene, date unknown
When the theatre closed in 1967, there was talk of moving the organ to the safer Music Hall Theatre whose original Robert Morton had been removed several years earlier. Ultimately, the Wurlitzer was sold at auction in 1967 to Harry Dost . Mr. Dost planned to install the instrument in his residence. His plans never materialized and in 1973 the organ was sold to Milt Kieffer for use in his Uncle Milt's Pizza Co. in Vancouver, Washington. The original Orpheum console was sold. As of May 2009, it is beleived to be owned by an individual in California.
&nbsp
The hydraulic lift equipment and other stage apparatus made its way to Bremerton and were installed in the Community Theatre.

Orpheum Theatre letterhead, c.1946 as used by Marvin Fox, Theatre Manager during this time. Courtesy Jeff Fox. Note Cascade Theatres Corporation operating "Hamrick Evergreen Theatres."
&nbsp

---