---
Radio Station KOL - 3/12 Kimball
Seattle, Washington
&nbsp
Back to the Radio Stations page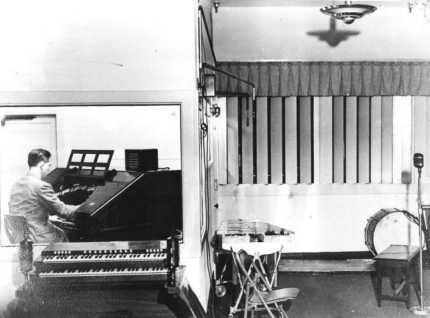 Don Isham in the KOL studios
&nbsp
The KOL Radio studios were located in the Northern Life Tower, downtown Seattle. A 3/12 organ was installed by Balcom & Vaughan in 1931 and was a combination of two organs: a 2/5 Kimball from the Grand Theatre, and a 2/10 Wurlitzer from the Colonial Theatre.
&nbsp
The instrument was controlled by a Wurlitzer console that had been 'Balcomized" (enlarged) to three-manuals.
&nbsp
According to Eugene Nye, the organ was eventually purchased by Don Myers in 1960 for $2000. It was stored but never installed. The instrument was later sold to Dr. Gordon Potter of Portland, Oregon.
---