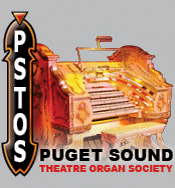 ---
Civic Ice Arena - 3/8 Wurlitzer
Seattle, Washington
4th Ave. & Mercer
Organ installation timeframe: 1941 - 1967
&nbsp
Back to the Skating Rinks main page

This sign on a Seattle street car
advertises the Ice Arena Rink.
The Civic Ice Arena was originally built in 1928. It was part of what was then called the Seattle Civic Center.
&nbsp
The Ice Arena Wurlitzer was originally installed in 1926 in Salem's Capitol Theatre (opus 1427). In 1941, the organ was moved by Balcom & Vaughan to the Ice Arena.
&nbsp
According to Kurt Armbruster, "...the pipes were housed in a large, shuttered box in the southeast corner of the interior, while the organ console was in a booth hung on the south wall, over the roll-up door."
&nbsp
"The booth, orginally decorated in ornate 1940s style, was 'modernized' in 1962 for the World's Fair.
&nbsp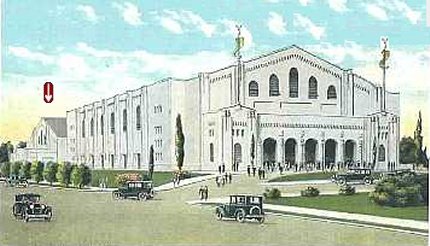 Postcard view of the Civic Ice Arena, c.1920s. Larger building in the foreground is the Civic Auditorium, now Opera House.
&nbsp
The organ was used daily until remodeling in 1963 (following the Seattle World's Fair) required its removal.
&nbsp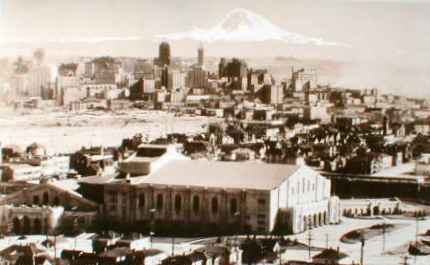 Civic Ice Arena on left. Photo pre-dates the 1962 Seattle World's Fair.
&nbsp
According to Glenn White, the contractor was going to trash the organ when they remodeled the Arena. Fortunately, White and his fellow sound engineers removed the instrument to storage.
&nbsp
In 1964-65, the organ was re-installed at the Seattle Center Food Circus.
&nbsp
The building is now called Mercer Arena, home of the Seattle Thunderbirds hockey team. It is slated for use by Seattle Opera in 2001-2002, during renovation of the Opera House.
&nbsp

---
For a short time in the late 1960's and early 70's, another pipe organ was installed at the Ice Arena. It was the three-manual Aeolian from the Rhodes Department Store. When the Rhodes store closed in the late 1960's, the organ was given to the City of Seattle. Glenn White, Chief Sound Engineer for Seattle Center, together with his crew, removed the organ and re-installed it in 1967 in the remodeled Arena above the South stage area. According to Glenn White, "we had no budget to restore the organ, but we did manage to keep it in fairly good tune. This was never much of an organ, and nobody really had any interest in using it. Later on, the City sold it, but I never found out where it went. It was a player Aeolian, and it had a whole bunch of player rolls with it which we saved in a secure place under the new seating area on the East side."
&nbsp
Mr. White's assessment of this instrument has been confirmed by others. According to some, it was lost in the room and could barely be heard. The instrument was eventually sold by the City, possibly to someone in Vancouver B.C. Current status is unknown.
---