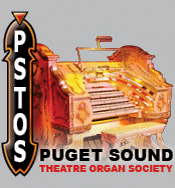 ---
Tom Hobbs - 2/6 Robert Morton
Seattle, Washington
Organ installation timeframe: Stored, but not installed
&nbsp
Back to the Northwest Theatre Organ History: Residences page

Tom Hobbs at the Morrison Morton, c.1965
Tom was an accomplished vibes player who often performed with Dick Schrum at the Plaid Piper restaurant. Tom also played the organ and worked with Thelma Barclay at Sherman Clay Music for many years, later starting his own company: Holiday Music Co.
&nbsp
In the 1960's, Tom acquired the organ formerly installed in Lyon's Music Hall. This organ was originally from the Lark Theatre in McMinnville, Oregon. Tom collected various additional parts in hopes of enlarging the instrument. Unfortunately, he passed away in 1998 and the organ was never installed.
&nbsp

---
&nbsp
In May 2000, the collection was acquired by Russ Evans of Kenmore, WA. The organ was in terrible shape, having been handled roughly and stored in a damp location. Additionally, almost all of the components (including the console), were in various states of disassembly. The collection included a pair of Kimball swell shade frames from Portland's Heilig Theatre. These were donated by Russ to the Pipe Organ Foundation who plans to use them for an installation at the Mercer Island Presbyterian Church.
&nbsp

| | |
| --- | --- |
| Console frame and pedal contacts | Stoprail, key frames |
&nbsp
The pipe organ parts were stored along with dozens of electronic organs which were part of Holiday Music's extensive trade-in inventory.
&nbsp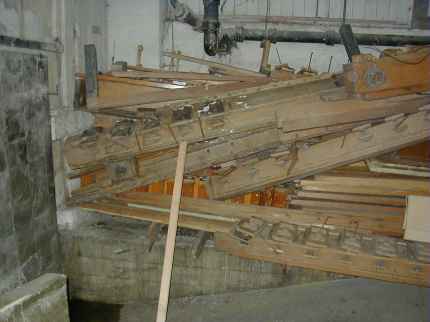 Morton swell motors and Wurlitzer Diaphone chest stacked in storage
&nbsp

| | |
| --- | --- |
| Tuba pipes | Percussions |
&nbsp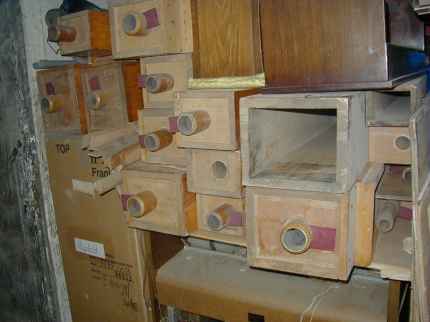 Morton 16' Bass Flute pipes
&nbsp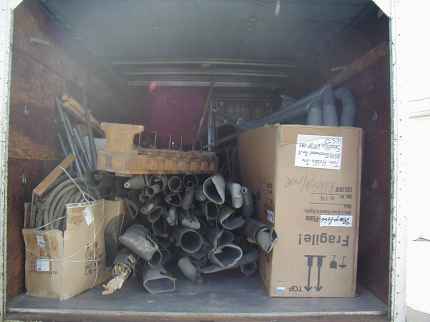 Large pipework and other parts stored in this delivery truck
---