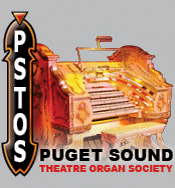 ---
Haller Lake Community Club - 3/10 Wurlitzer
Seattle, Washington
12579 Densmore Ave N.
Organ installation timeframe: 1969 - present
&nbsp
Back to the Northwest Public Theatre Organ Installations page

Haller Lake console
&nbsp
The PSTOS-owned Haller Lake Community Club organ was originally shipped from the Wurlitzer factory in July 1926. It was a Style D with player, opus 1432. The organ never had a theatre home having originally been installed in the Fraternal Order of Eagles hall in Dayton, Ohio. The organ was seldom used in this location and its main cable was eventually cut and the console removed to make more room for bingo tables.
&nbsp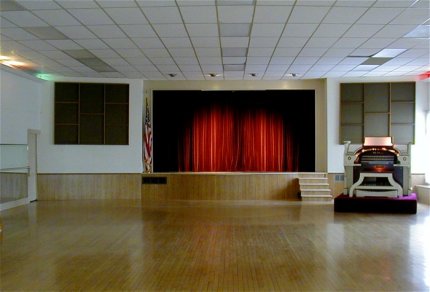 Auditorium, showing stage, shutter openings, and previous Marr & Colton console.
&nbsp
The entire organ (less console and relays) was sold by the lodge to the Leonard McMahon family in 1959 for the princely sum of $50.00.
&nbsp
In July 1959, the McMahons purchased a 3-manual Marr & Colton console and relays from the Toledo Pipe Organ Company (ex: Grand Theatre, Detroit Michigan) for $325.00.
&nbsp
The McMahons totally re-leathered the organ and then the Boeing Co. transferred the family to Seattle, not knowing the family's moving expenses would be ballooned by a pipe organ. The instrument did make it to Seattle and was playing in the McMahon's Queen Anne Hill residence by the mid-1960's.
&nbsp
Following Mr. McMahon's untimely death, PSTOS sold bonds to its members and purchased the instrument from Mrs. McMahon, removing it from her Queen Anne Hill home.
&nbsp


Main chamber, showing new Clarinet

New string celeste

Solo chamber showing Kinura, Trumpet, Tibia and Vox
&nbsp


HLIC signing, May 1969
A contract was signed with the Haller Lake Improvement Club on June 5, 1969. The installation was completed by September of 1969.
&nbsp
Pictured are - seated: Mrs. Paula Beauchamp, Past HLIC President; Les Lehne, PSTOS Chairman. Standing: Harry Harkness, HLIC Co-ordinator; William R. Ross, present HLIC President; and Russ Evans, ATOE Co-ordinator.
&nbsp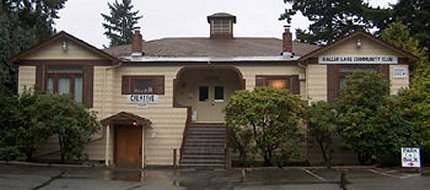 Haller Lake Community Club enrance. Photo courtesy www.hallerlake.info.
&nbsp
In 2014, a three-manual console and replica Wurlitzer pneumatic relay built by Ray Whelpley, and formerly controlling his residence organ, was installed at Haller Lake Community Club, replacing the Marr & Colton console.
&nbsp
A unique feature of the installation is the moveable percussions mounted on wheels that can be rolled onto the stage to permit maintenance access to the two chambers.
&nbsp

When not in use, the console is protected by a special plywood cover. The organ can be played without having to remove the entire cover, which is very convenient since the instrument is made available for practice sessions - one person can open it without needing assistance.
&nbsp
Many national and international artists have played the PSTOS Haller Lake instrument over the years. One of the first viisting performers was Australian Tony Fenelon who presented a program in September, 1969.

Tony Fenelon, c.1969
&nbsp


Visit the Haller Lake Community Club website:
www.hallerlake.info


&nbsp

---
Previous Marr & Colton console
Installation timeframe: 1959-2016
&nbsp
Following installation of the Whelpley console at Haller Lake Community Club, the Marr & Colton console was sold to Fred Beeks who installed it at the Centralia Fox Theatre to control the instrument he and wife Eva donated to the theatre in 2007.
&nbsp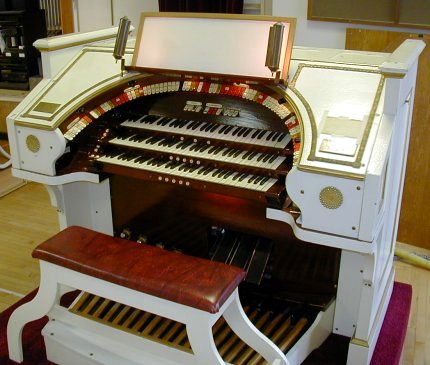 Previous Marr & Colton console
&nbsp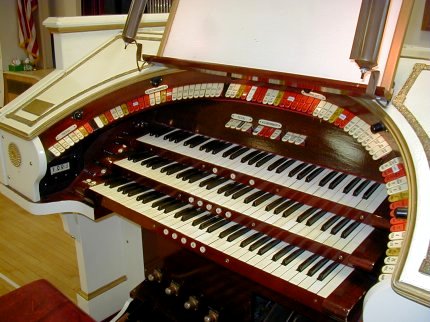 &nbsp

---
&nbsp


c.1971

&nbsp
Previous 3/8 specification (from Marr & Colton console)
&nbsp

Pedal
16 Diaphone
16 Contre Tibia Clausa
16 Bourdon
8 Open Diapason
8 Tibia Clausa
8 Flute
8 Cello
8 Trumpet
&nbsp
Pedal traps (back rail)
Bass Drum
Kettle Drum
Triangle
Cymbal
&nbsp


---

Solo
16 Contre Tibia Clausa
16 Trumpet (T.C.)
16 Vox Humana (T.C.)
8 Tibia Clausa
8 Flute
8 Viol d'Orchestra
8 Trumpet
8 Diapason
8 Kinura
8 Vox Humana
4 Tibia Clausa
4 Flute
4 Viol
2-2/3 Twelfth
2 Piccolo
Chrysoglott
Cathedral Chimes
&nbsp


---

Toe pistons
Siren
Boat Whistle
Horn
Crash Cymbal

Accompaniment
blank
16 Contre Viole (T.C.)
16 Vox Humana (T.C.)
8 Tibia Clausa
8 Flute
8 Viol d'Orchestra
8 Trumpet
8 Diapason
8 Kinura
8 Vox Humana
4 Piccolo
4 Flute
4 Viol d'Orchestra
4 Diapason
2 Piccolo
Chrysoglott
Snare Drum Loud
Snare Drum Soft
Tambourine
Castanets
Chinese Block
Tom Tom
Sleigh Bells
Cymbal
&nbsp
Second Touch
8 Trumpet
8 Diapason
&nbsp


---

Tremulants
Main
Trumpet/Kinura
Tibia
&nbsp


---

Accessories
Celeste Coupler Off
&nbsp

Great
16 Contre Tibia Clausa
16 Bourdon
16 Contre Viol (T.C.)
16 Vox Humana (T.C.)
16 Diaphone
16 Trumpet (T.C.)
16 Kinura (T.C.)
8 Tibia Clausa
8 Flute
8 Viol D'Orchestra
8 Trumpet
8 Diapason
8 Kinura
8 Vox Humana
8 Saxophone (Syn.)
8 Orchestral Oboe (Syn.)
5-2/5 Quint
4 Piccolo
4 Flute
4 Viol D'Orchestra
4 Diapason
4 Vox Humana
2-2/3 Twelfth
2-2/3 Nazard
2 Piccolo
2 Fifteenth
1-3/5 Tierce
Chrysoglott
Xylophone
Glockenspiel
&nbsp


---

Push buttons/switches
Vox tremulant on/off
Cow bell
Door bell
Hoofs
Police whistle
Bird whistle
Master swell on/off
---