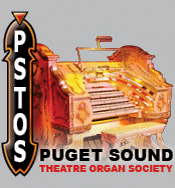 ---
Morrison Residence - 3/14 Robert Morton
Everett, Washington
&nbsp
Back to the Northwest Theatre Organ History: Residences page

Eddie Dunstedter at the Morrison Morton. c.1965
In 1963, Bill Morrison purchased the 3/10 Robert Morton that was originally installed in Tacoma's Pantages Theatre in 1925. Three or four additional ranks were added.
&nbsp
The organ was indstalled in a large two story basement studio off the patio.
&nbsp
In the late 1970's or early 80's, the instrument was sold to Bob Rickett and then Ted and Ruth Beecher of Portland. It was never reinstalled while owned by the Beechers, but well stored and looked after.
&nbsp
After the Beechers' death, the instrument was purchased by Milt Kieffer of Vancouver, Washington. It was stored for a while and then sold in late 1997 to Father Terrence Wager for installation in the Parish Hall of St. Columban Catholic Church in Yelm, Washington.
---
Prior to the Morton, Bill had a 1928 three-manual, Marr & Colton instrument from the Indianapolis Fountain Square Theatre. This instrument was originally nine ranks and included an English Post Horn.
&nbsp
The organ was installed with four additional ranks in the Morrison home by Balcom & Vaughan in 1962, as their opus 698.
&nbsp
This organ was sold to another local organ buff when the Morton was purchased.
&nbsp
Volume I of Junchen's Encyclopedia of American Theatre Organ (bottom, page 299) incorrectly attributes a rather ornate console to the Fountain Square organ. According to Bill Morrison, this was not the console for this organ.
&nbsp

---