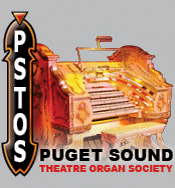 ---
Everett Theatre - 3/16 Kimball (new installation, in progress)
Everett, Washington
&nbsp
Back to the Everett Theatre main page
Article from the Everett Herald, Sunday January 17, 1999
&nbsp
A Pipe Dream: Organ Resounds in Old Theater
&nbsp
By JANICE PODSADA Everett Herald Writer
For the first time in 45 years, the sounds of a pipe organ filled the Historic Everett Theatre Saturday night.
&nbsp
It was only six notes, since the organ and its more than 1,400 pipes aren't fully installed. But the man who pushed the keys, John Schack, longstanding member of The Everett Theatre Society, described those few tones as "heavenly noise."
&nbsp


Crew Cheif Randy Mather is shown
installing large bass pipes.
Project coordinator Randy Mather (left, foreground) gets a hand from Galen Palmer in positioning a large wooden pipe high on a backstage wall in the Historic Everett Theatre on Colby Avenue on Saturday.
&nbsp
For almost two years, hundreds of volunteers have been working to restore the pipe organ, part of the theater's grand overhaul, a remodel intended to restore the old Historic Everett Theatre to its original 1901 grandeur.
&nbsp
So, those volunteers were invited Saturday night to the theater for what they thought was a get-together over dinner and coffee. Instead, they heard the first whoosh of air come pulsing through the bellows, through the pipes, and then turn into musical notes.
"We know the pipes are on. We know that they blow air, but we haven't tried to make them sound," said the volunteer director of the restoration project, Randy Mather, before the keys were pushed.
&nbsp

Mather took over the project a year ago, when Paul Papineau (right), the first project director, moved overseas.
&nbsp
With the help of volunteers, Papineau, a former nuclear submarine commander, located the pipe organ in a Green Lake basement in the fall of 1997. The organ was built in 1925 for the Olympic Theater in Seattle.
&nbsp

&nbsp
Since then, volunteers have been busy cleaning pipes, some as small as a pencil, others as large as a smokestack; releathering tiny valves; and soldering more than 3,000 wires that will connect a computer from the organ to the pipes.
&nbsp
Before Marcella O' Brien volunteered for the project, she'd never handled a soldering iron.
&nbsp
"I've soldered all these little itty-bitty wires," O' Brien said.
&nbsp
Now, she joked, the skill is one she plans to add to her resume.
&nbsp
Sylvia Drugge, president of The Everett Theatre Society, has spent hours gluing and releathering little boxes.
&nbsp
"You take two small wooden squares and wrap them in kidskin to make a bellows," Drugge said. "They operate one of the little valves that operate the big valves."
&nbsp
Some parts of the organ are still being reassembled at an Everett Marina warehouse.
&nbsp
One day soon, those thousands of pieces will fill the theater with music not heard in nearly a half-century.
&nbsp
"What surprises me about that whole dang organ is it's just pieces," said volunteer Wilfred Schmitt. "But when you get it all together, then you got something."
&nbsp
Anyone interested in volunteering for the project can call 425-258-6766.
---
The project is being sponsored by the Everett Theatre Society. the Society stages a number of productions each year. Phone (425) 258-6766 for ticket information. More information is available on the Everett Theatre web site:

---