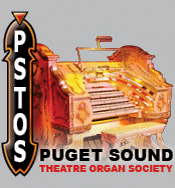 ---
Jones Residence - 4/22 Robert Morton - hybrid
Edmonds, Washington
Organ installation timeframe: 1953 -
&nbsp


Listen to this instrument
&nbsp
Back to the Northwest Theatre Organ History: Residences page
&nbsp

| | |
| --- | --- |
| Bob Jones and Eddie Dunstedter with 4/22 console | Robert "Bob" Jones has been an organ enthusiast since the late 1940's. His residence instrument started out as a three-manual Robert Morton, and ended up as a four-manual, 22 rank instrument which included parts from various manufacturers: Wurlitzer, Kimball & Barton. |
&nbsp
Some parts were from the Walla Walla Liberty Theatre Wurlitzer. According to Eugene Nye's detailed records, the original 3/11 Morton instrument had 783 pipes and 75 stops. A player piano was later connected to the organ so rolls could be played.
&nbsp
The organ was sold to Roger Henderson who stored the instrument for a number of years. It was eventually sold again and broken up for parts.
&nbsp
Bob is a very capable organist and during the 1960's joined the Seattle Musician's Union so that he could fill in as relief organist at Seattle's Rolladium Skating Rink with its 3/10 Wurlitzer.
&nbsp

| | |
| --- | --- |
| Bob was quite knowledgeable about pipe organ mechanics. In 1966, he presented a series of pipe organ technical lectures for interested Puget Sound Chapter members. Topics ranged from theory, mechanics and installation techniques. Lee Bauscher also participated as a lecturer for the series. | |
---
The following excerpts are from a note written by Bob to The Console magazine in June 1983 (V22, No. 5, pp20):
&nbsp
The 3/11 Morton was originally installed in a Flushing, Long Island theatre.
&nbsp
It was acquired in the early 1930's by the YMHA (Young Men's Hebrew Association) in New York City. They offered it for sale in the Diapason in 1948.
&nbsp
"There were modifications made on the organ while it was at YMHA. A second Vox was added using a late model Carlsted chest. The Brass (Solo) stuff was on 15-inch pressure including the Kinura. Also the second touch tabs had been removed, but the wiring remained intact. The organ itself was built in 1924.
&nbsp
"Carpet beetles had severely attacked the YHMA auditorium, and they ate all the felt out of the console. Fortunately they did not get into the chambers.
&nbsp
"I purchased the organ in about August 1948 and moved it to Seattle via railroad freight car. Using the "Immigrant's Rate," I had an entire car and the tarif at that time was $4 per 100 pounds. It was later moved to my residence in Edmonds, about 13 miles north of Seattle.
&nbsp
"It was fully assembled in 1953 as it had been in YMHA. Then it was rebuilt and modified into a four-manual, 240-stop key instrument of 22 ranks, becoming a hybrid, using all of the original Morton stuff plus Wurlitzer, Kimball, Barton and Smith.
&nbsp
"I sold the organ to Gary Henderson of Gig Harbor, Washington in 1974. I understand he has traded some of the parts for others and has built a new console using the San Francisco Orpheum as a model.
&nbsp
"In my search for the original location, I, too, had written Spencer Turbine Company. All they had for a description of the theatre was - Ship to dockside of New Theatre. Perhaps someone in the area could determine what theatres were in Flushing in the 1924-25 era and come up with the answer. We know the organ was built in 1924, according to the dates stamped on the pipes."
---
Bob Jones at his 3/10 Robert Morton residence organ
&nbsp
Artist: Bob Jones
Instrument: Bob Jones residence, Edmonds WA. 3/10 Robert Morton
Date: c.1954
Recording: Glenn White, during in an informal gathering

Track 1 &nbsp&nbspFormat: MP3 (96Kbps), Size: 1.9MB
&nbsp

Track 2 &nbsp&nbspFormat: MP3 (96Kbps), Size: 1.5MB
&nbsp

Track 3 &nbsp&nbspFormat: MP3 (96Kbps), Size: 938KB
&nbsp

Track 4 &nbsp&nbspFormat: MP3 (96Kbps), Size: 2.6MB
&nbsp

Track 5 &nbsp&nbspFormat: MP3 (96Kbps), Size: 2.0MB
&nbsp

Track 6 &nbsp&nbspFormat: MP3 (96Kbps), Size: 2.0MB
&nbsp

Track 7 &nbsp&nbspFormat: MP3 (96Kbps), Size: 1.5MB
&nbsp

---