&nbsp

---
3/7 Wurlitzer - new installation (2007- present)


&nbsp
Fred & Eva Beeks donated their three-manual 13 rank Wurlitzer to the Fox Theatre in 2006. The organ was previously installed in their Skagway, Alaska home which was custom-built in 1989 to house the organ. The organ and home were featured in magazine articles and Alaska Magazine's "Extreme Homes" TV program.
&nbsp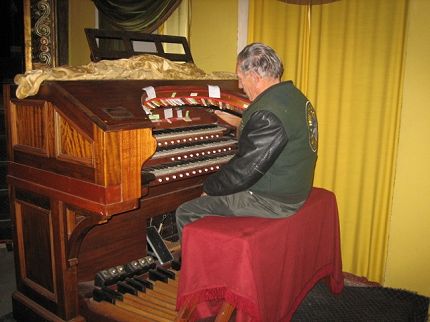 Fred Beeks at the console, 2013. Photo courtey Jeff Fox
&nbsp
The Beeks originally intended to donate the organ back to its original theatre home (the California Theatre in Dunsmuir, California), but there were logistical issues that would have delayed installation and they were anxious to get the organ installed and playing again quickly.
&nbsp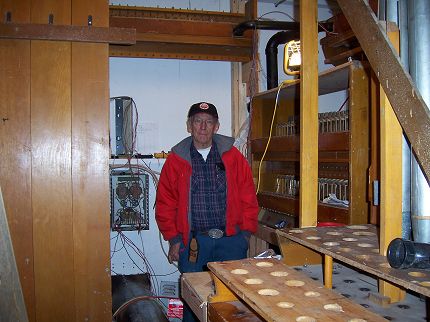 Fred Beeks in the pipe chamber during installation, 2007
&nbsp
in 2006, Fred & Eva retired and decided to move to Anacortes WA to be closer to their children. In their explorations of the Northwest, they met Bob Corl and Claudia Simpson-Jones of Opera Pacific, at the time, operators of the Fox Theatre in Centralia. Opera Pacifica's long range plans included re-installation of a pipe organ at the Fox and when Fred telephoned in 2005 with offer of a pipe organ and free installation, Bob and Claudia were overjoyed.
&nbsp
&nbsp
Unlike the original installation, the Beeks organ is installed in a new under-stage chamber in an area previously occupied by dressing rooms. In addition to the huge task of installing the organ itself, Fred and Eva did nearly all the preparatory work themselves including creating a large tone opening in the back wall of the orchestra pit, making structural modifications to the new chamber area, cleaning and painting the chamber and pit area, as well as wiring the blower. It has been an enormous task for the two of them requiring many week-long trips from Anacortes spent "camping" in their motor home parked in a nearby Elks Lodge lot.
&nbsp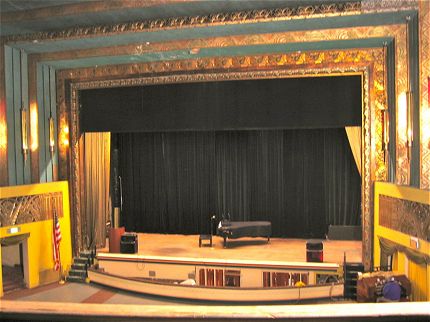 Harvey Rossiter at the console, 2013. Note under-stage chamber openings. Photo courtesy Jeff Fox
&nbsp
The instrument is based on a Style D Wurlitzer opus #1232 originally installed 1925 in the California Theatre Dunsmuir, California. After it was removed from the theatre, the new owners added a third manual along with seven pipe ranks from a Smith organ. When Fred installed the instrument in their Skagway home, he added a 2nd stop rail to more effectively control the organ's 13 total ranks. For the Centralia Fox, seven ranks are installed (Style D Wurlitzer plus a Gottfried Kinura). The third manual will be retained, but the second stop rail has been removed.
&nbsp
The Beekses started the installation in the Summer/Fall of 2006 and had the instrument playing in early 2007. Way to go Fred & Eva!

Jeff Fox at the console, April 2014. Photo courtey Jeff Fox
&nbsp

---
Visit the Fox Theatre web site:
www.centraliafoxtheatre.com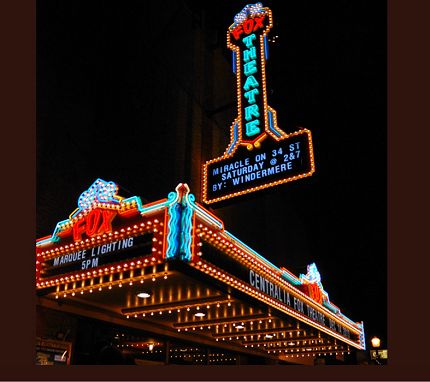 New vertical sign and entrance canopy, 2013. Image courtesy Fox Theatre
| | |
| --- | --- |
| Photos courtesy Fred Beeks 2013 | |
&nbsp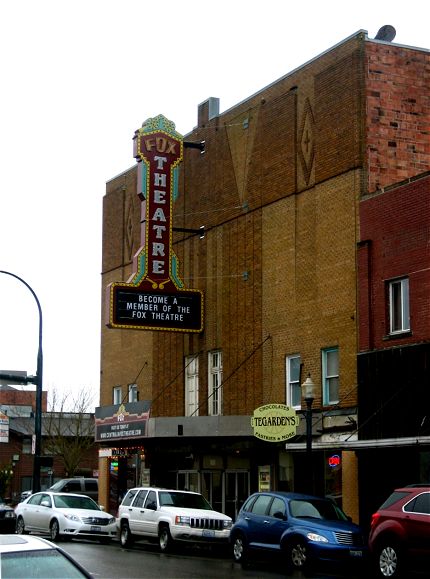 New vertical sign, prior to installation of new entrance canopy, February 2013. Photo courtesy Jeff Fox
&nbsp

---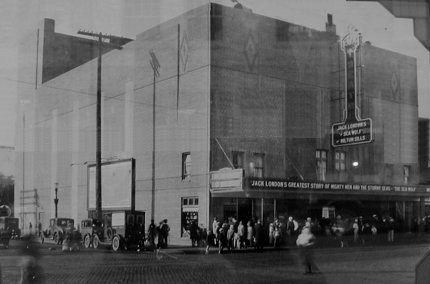 c.1930
&nbsp


Centralia street scene, Fox Theatre on the left, c.1935.
&nbsp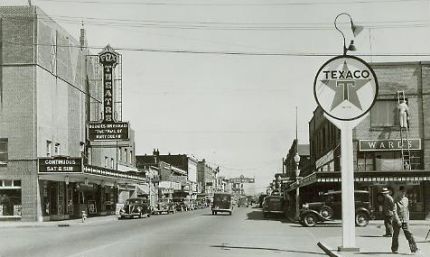 c.1941
&nbsp


c.1941
&nbsp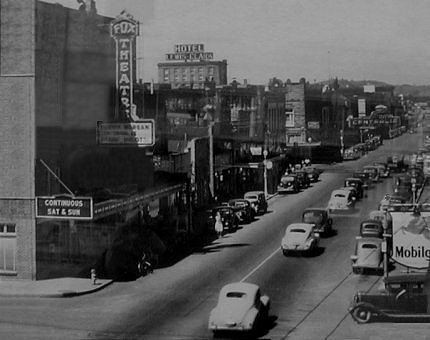 Fox Theatre street scene, c.1945
&nbsp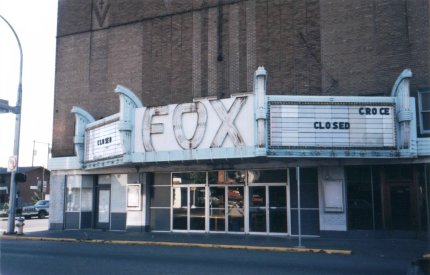 1998 view of the Fox Theatre marquee
&nbsp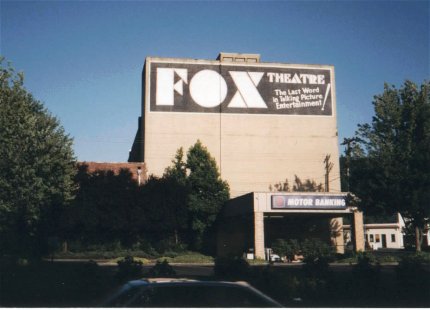 Fox Theatre. The Last Word, 1998 view
&nbsp
In May 2000, the Fox building was sold to the City of Centralia. The City worked to find a buyer to refurbish the structure and a minimum price of $190,000 was set. As part of the sale, the buyer would be required to use the building as a convention center, restore it to its original appearance, maintain the outdoor marquee and allow the city to hold community meetings inside. Centralia officials estimated it would cost $1.6 million to renovate the historic theatre.
&nbsp

---
Photos from a February 2001 visit to the theatre...
&nbsp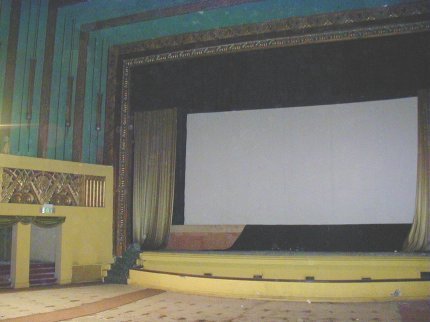 Fox auditorium, c.2001. All main floor seats have been removed.

&nbsp

| | |
| --- | --- |
| Right exit | Right exit detail |
&nbsp

| | |
| --- | --- |
| Main floor light fixture | House lights up |
&nbsp

| | |
| --- | --- |
| Landing | Mezzanine |
&nbsp

| | |
| --- | --- |
| Main chandelier from balcony | View from the main floor, directly underneath |
&nbsp

| | |
| --- | --- |
| Orchestra pit | "Twinned" balcony |
&nbsp

| | |
| --- | --- |
| Left staircase from lobby | "Twinned" balcony |
&nbsp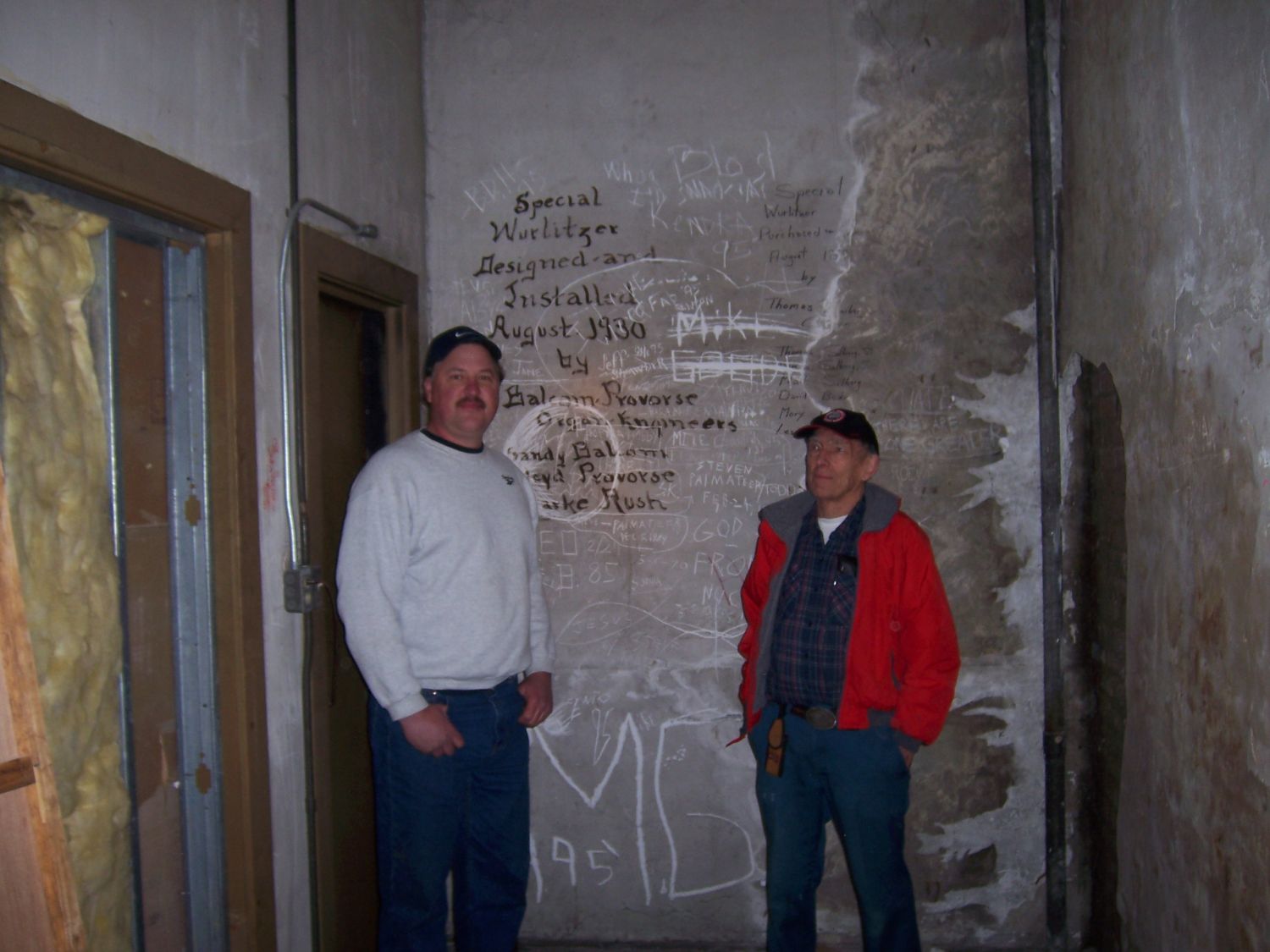 PSTOS members Lynn Mordick & Fred Beeks in the former back-stage chamber, 2007
&nbsp
Chamber graffiti, photographed during a 2007 theatre visit

| | |
| --- | --- |
| Balcom & Provorse graffiti in the back- stage chamber, c.1930 | Removed by Tom Solberg and team, c.1969 |
&nbsp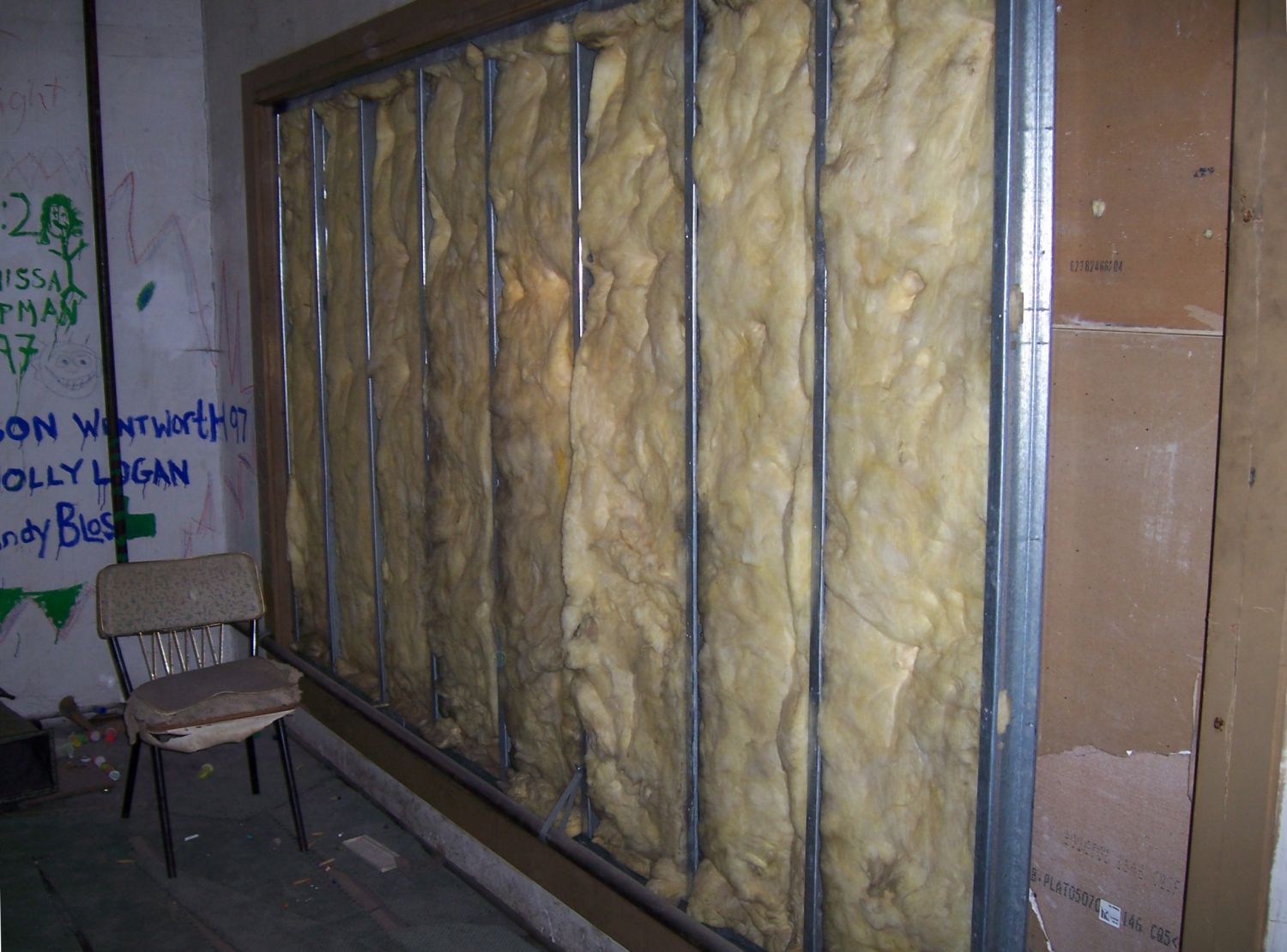 Original back-stage swell shade opening, now framed in, 2007
&nbsp

Fox Theatre, c.2007
---
At one point, a two-manual Robert Morton organ from a local church was stored in the theatre lobby by former Centralia resident Mike McDonald. According to Mike, this instrument was installed at the Fox for a short time before the 2/10 Wurlitzer described above, but this cannot be verified through available records. Mike originally thought this instrument was from Yakima, but later found "Coeur d'Alene" written inside the windchests.
&nbsp

| | |
| --- | --- |
| Morton console | Pipework, stored in the lobby |
&nbsp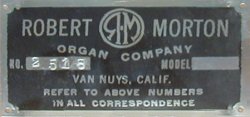 Morton, opus #2518
---