---
Our Saviour's Lutheran Church - 2/9 Seeburg-Smith
Bellingham, Washington
Organ installation timeframe: 1930 - 1985
&nbsp
Back to the Northwest Theatre Organ History: Other Installations page.
According to Jeff Fox of Bellingham, "the Our Saviour's Lutheran Church organ was originally installed in the California Theatre, Pittsburgh California. The Robert-Morton Company took the organ in on trade when they sold a new 3/10 Morton to the theatre. The organ sat in their warehouse for several years until 1930 when it was sold to the church and paid for in-full on February 4, 1931. Seattle organ firm Balcom & Provorse did the install at the church and Ed Ahern of Bellingham was organist for the dedication program. The chambers were located behind the Gothic grilles added in 1930 when the organ was installed. The left chamber was originally the choir loft."
&nbsp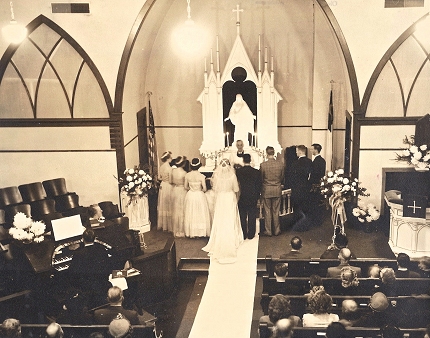 Our Saviour's Lutheran sanctuary, c.1953-1955. Edward Sandvig organist with Pastor Clarence Haugen officiating. Note Robert-Morton nameplate used to cover the console's backrail. Photo courtesy Jeff Fox.
&nbsp
Jeff Fox: "The old church building was torn down in June, 1961. The church hired Walter D. Price to move the organ to the new building. Price made a new top and forward piece at the swell pedals and the remainder of the console was overlayed with the oak veneer to match the woodwork in the church. He also built a new bench." The Robert-Morton nameplate that was previously used to cover the backrail was removed by Price and installed in the chamber for safe keeping. Accoring to Jeff, Price "was pushing 70 years of age when he installed the Smith. He had been in the organ and cabinet making business most all his life. He also had served as a band organ and orchestrion repair person."
&nbsp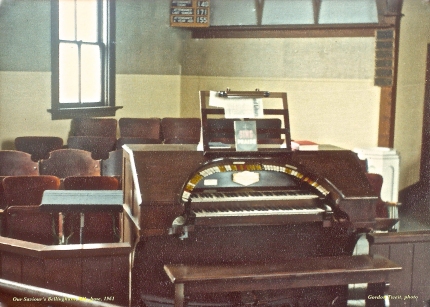 Console, June 1961. Photo by Gordon Tweit.
&nbsp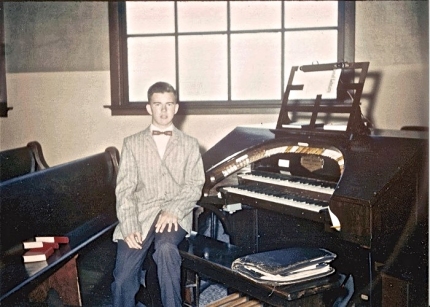 Jeff Fox at the console, following the final service at the old location, June 1961.
&nbsp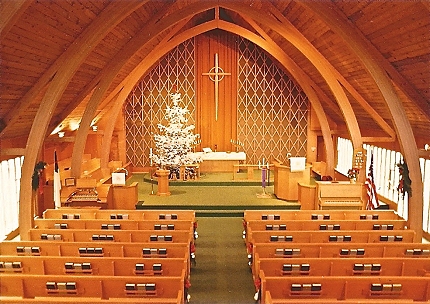 Our Saviour's Lutheran new sanctuary, c.1977-1984. Pipe chambers were located behind the grille work. Photo courtesy Jeff Fox.
&nbsp
The Our Saviour's Lutheran organ was removed in 1985 and replaced with a Skinner organ (opus 460) built in 1924. It came from St. Luke Lutheran Church in Ithica, NY."
&nbsp
The Seeburg-Smith organ was later sold to Jeff Fox after having sat in a Sunday School room at the church for at least three years following its removal.

---
&nbsp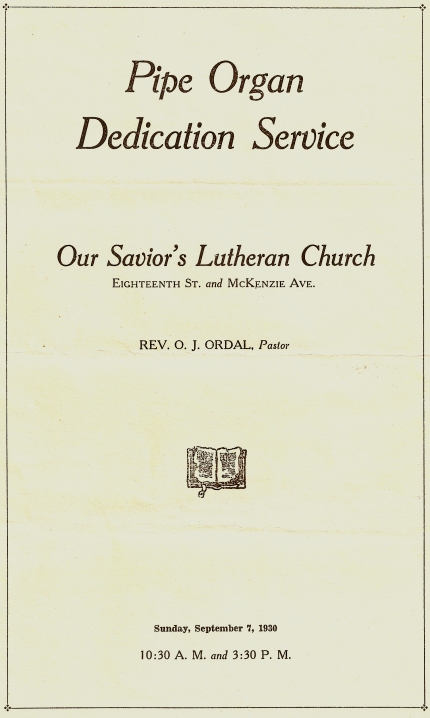 Cover of the organ dedication program, September 7, 1930. Courtesy Jeff Fox.
&nbsp

---