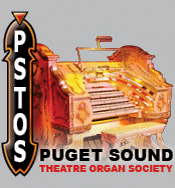 ---
Liberty (Edison, Egyptian) Theatre -
2/10 Wurlitzer, Style 210 Special & 2/7 Kimball
Bellingham, Washington
132 W. Holly
&nbsp
Back to the Washington Original Theatre Installations page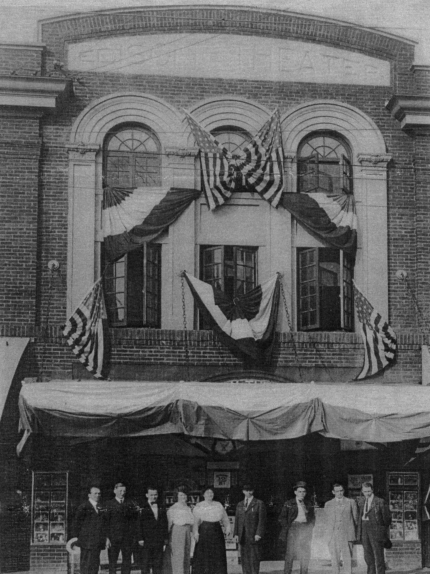 Edison Theatre, during an Elks Convention held August 19-21, 1915. Photo courtesy Jeff Fox.
&nbsp
Individuals pictured in the photo: Harry Gardner, drummer (orch); unknown, usher; Bert Watson, head usher, Gladys L. Schirrman, pianist; Mrs. Harry Kerr, cashier; Harry Kerr, manager; Lee Scott, violinist; W.S. Schirrman, clarinet; Frank Kerr, manager and owner.
&nbsp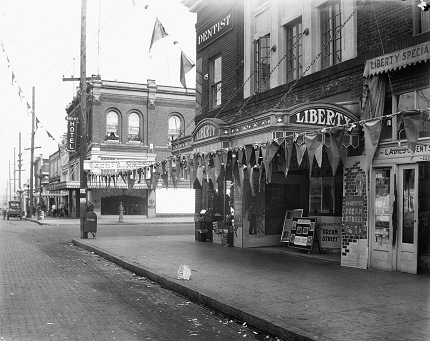 Liberty Theatre, c.1921. Photo courtesy Jeff Fox.
&nbsp
The Liberty Theatre originally opened as the Edison. The house had a 2/10 Wurlitzer, Style 210 Special (opus 392) installed in 1921. Joy Brown was opening night organist. The Judd Walton opus list indicates that this instrument was repossessed by the Wurlitzer Co. Its current status is unknown.
&nbsp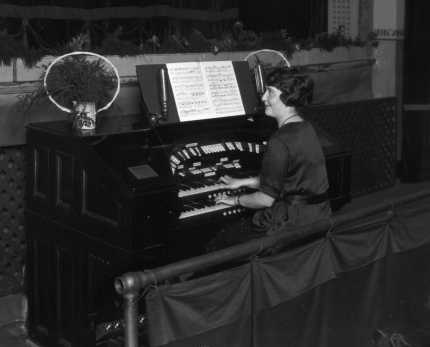 Joy Brown at the Liberty Wurlitzer, June 1921. Photo courtesy Jeff Fox.
&nbsp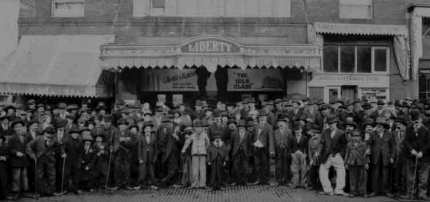 Children dressed as Charlie Chaplin as part of a promotion for the film "The Idle Class," c.1921. Photo by J. W. Sandison, courtesy Whatcom Museum of History & Art.
&nbsp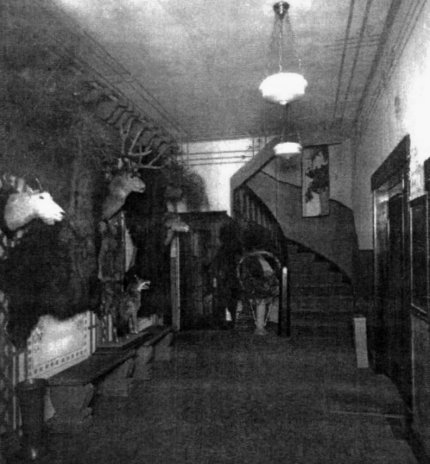 Lobby of the Liberty Theatre, c.1921 following the changeover from the name Edison to Liberty. According to notes on the original photo, the grand re-opening following WWI was Saturday November 16, 1918. The remodeled front was said to be "one of the prettiest and most pleasing in the State." Photo courtesy Jeff Fox.
&nbsp
The Liberty entrance and lobby areas were often decorated in a theme appropriate to the currently playing movie. Here are two views from 1921.
| | |
| --- | --- |
| Dream Street, 1921 | The Old Nest, 1921 |
Photos by J. W. Sandison, courtesy Whatcom Museum of History & Art.
&nbsp

---
In the mid- to late- 1920's, the theatre operated as the Egyptian. Records indicate two different organs associated with the Egyptian:
Early Kimball tubular pneumatic instrument, install date unknown. It's possible this instrument was installed at the previous location of the Egyptian, before moving to the Liberty Theatre building.
2/7 Kimball (opus 6838), installed 1926. The purchase price was $9,000. Based on a review of Kimball opus dates, #6838 corresponds to a 1924 or 1925 manufacture date. This means that the 1926 install date at the Egyptian could be incorrect, or the instrument could have been installed in another location before the Egyptian. The instrument was later moved to another theatre (quite possibly the Ritz Theatre) in Great Falls, Montana. In 1938 the organ was relocated as-is by Balcom & Vaughan to the Howell-Edwards Mortuary in Salem, Oregon. In 1945, an additional rank was added and Balcom & Vaughan assigned their opus number 418. In 1966, the organ was sold to Harold Musolf, Jr. of Seattle. In the mid 1970's, Harold sold the organ to individual in Los Angeles, California.
---