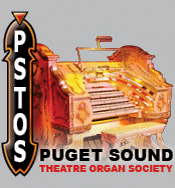 ---
Charles Residence - 2/14 Robert Morton
Bellingham WA
1601 Mill Ave.
&nbsp
Back to the Northwest Theatre Organ History: Residences page
Bill Charles purchased the 1889 Fairhaven Methodist Episcopal Church building in the 1980s. In March 1995, Bill acquired the former Vancouver Pantages Robert-Morton from a party in Ladner, B.C. with plans to install it in the church. The installation never materialized and in 2000, Bill sold the building including the organ to artist Patrick Wickline. Patrick initially planned to keep the organ but then donated it to the Columbia River Theatre Organ Society who planned to install it in Portland's Hollywood Theatre.
&nbsp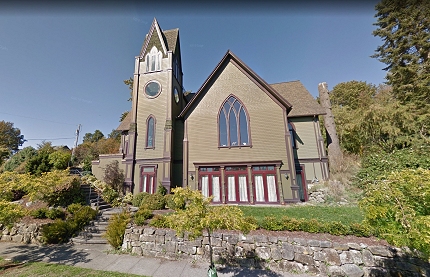 Former Fairhaven Methodist Episcopal Church building, as restored by Patrick Wickline. Image, Google Maps 2018
&nbsp


Former Pantages Morton console just prior to removal from Ladner B.C. Jeff Fox photo, 1995
&nbsp


Main chamber pipework just prior to removal from Ladner B.C. Jeff Fox photo, 1995
&nbsp


Solo chamber pipework just prior to removal from Ladner B.C. Jeff Fox photo, 1995
&nbsp


Jeff Fox and Bill Charles during the removal from Ladner B.C. Jeff Fox photo, 1995
&nbsp
According to Jeff Fox, the Solo division was quite unusual in that it had a 5-6 rank straight/ventil chest with no unification, as opposed to the typical unit chest design. Jeff and Bill were not able to play the organ in Ladner B.C. as the blower motor had gone out.
&nbsp

---
&nbsp


Two-manual Robert Morton console while stored at the Hollywood Theatre. Photo courtesy Terry Robson.
&nbsp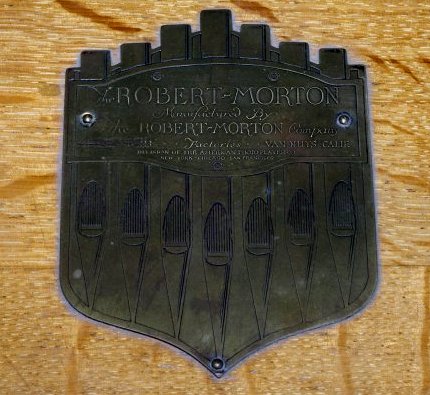 Robert Morton nameplate. Photo courtesy Terry Robson
&nbsp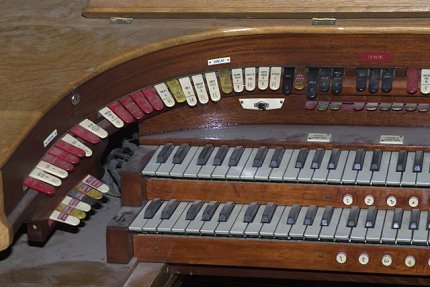 Photo courtesy Terry Robson.
&nbsp


Photo courtesy Terry Robson.
&nbsp

---
&nbsp
Artist remaking old church into an a-spiring dream
&nbsp
By JON HAHN
SEATTLE POST-INTELLIGENCER COLUMNIST
Saturday, November 30, 2002
&nbsp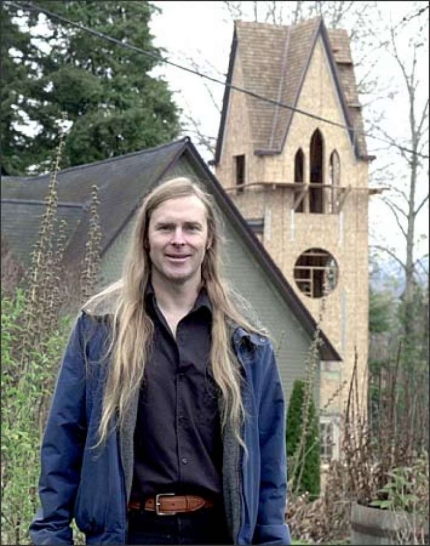 Pat Wickline, church in the background. Photo by Ron Wurzer
&nbsp
BELLINGHAM -- He was lost, wandering in the wilderness of Fairhaven, and had taken another wrong turn when, lo, there was a sign unto him. It sayeth: "For Sale."
&nbsp
Thus didst Pat Wickline first see the church, high on a hill and lowly in repair, its 112 years weighing heavily on its brittle wooden bones.
&nbsp
Many years had passed since high winds and other problems decapitated the steeple, and the 6,000-not-so-square-foot structure had been resurrected so many times to so many uses and abuses that it was about to cave in on itself.
&nbsp
"There were some major structural timbers balanced vertically atop one another . . . nothing holding them but gravity!" exclaimed the 38-year-old artist and Microsoft research staffer. "If we hadn't quickly nailed some scabs around those timbers, the whole place might've gone. It was just five days before the (Nisqually) earthquake."
&nbsp
There's been a whole lotta shakin' goin' on since that day two years ago, when Pat quite accidentally came upon the site and building he knew would make the perfect home studio for the music, art and people that form his inner life and outer community.
&nbsp
"At first, every day was some new disaster, like when the entire old concrete wall caved in," he said, pointing to a new concrete basement wall that since has replaced it. "Now there should be no more surprises, and we hope to be finished in about three months."
&nbsp
It takes a dreamer, an artist and musician and anthropology graduate, as comfortable with abstract notions as with precise mathematics, to dare this kind of venture. The 1890-vintage Fairhaven Methodist Church had sat uninhabited and in sad disrepair for several years before he found it two years ago. For decades before that, Pat said, it apparently had served as an antiques warehouse, a theater, a hippie commune and Lord-only-knows-what. "There were things left here from all those periods, like some sort of historical warehouse," Pat said.
&nbsp
Some of the best finds so far include the thousands of parts that once made up the theater organ from the old Pantages Theatre in Tacoma [Editor: actually the Vancouver B.C. Pantages], hundreds of richly aged hardwood panels, stairs, railings and balustrades from Fairhaven's old Commercial Hotel. And three of the original stained glass windows.
&nbsp
Pat, the metal artist who created the giant squid sculpture that floats above the Pike Place Market's atrium, will create his own stained glass for the three 5-foot-diameter windows at the base of the re-created steeple. From that vantage point, there are picture postcard views of Mount Baker, Bellingham Bay and the Fairhaven community. The steeple windows are roughly at the same elevation as the steeple cross atop a Roman Catholic church a couple of blocks away. But Pat's steeple reaches higher yet.
&nbsp
As the original siding is replaced, along with new gothic windows, the building is being painted green with plum-colored window and door trim.
&nbsp
Inside the main sanctuary, the original California redwood paneled ceiling is about the only original aspect remaining "because it was too high and inaccessible for anyone to change," Pat said.
&nbsp
All this work, from the architectural design by Alexei Ford and the actual construction by contractor Ian Hamilton, both of Bellingham, is costing Pat "at least two times, hopefully not triple" the original purchase price, he said.
&nbsp
"That original wood siding and the fish-scale siding shingles were hidden beneath a thick coat of stucco," Pat said, pointing to the partially restored southern front exterior. "What we got at the outset was a big ugly stucco box with gothic windows. And it was so very weird that it had sat on the market for at least three years, but it scared people away."
&nbsp
Certainly, the remodeled structure might still look weird to some, "but we're very committed to historical integrity, and there will be no 'fake historical' aspects to the project," Pat vowed. "Basically, we're building a new house inside and outside an old house," he said of the project.
&nbsp
Pat doesn't feel compromised by the building's original use as a house of worship, he said. Raised as a Unitarian in the Newport area east of Seattle, he sees this project more as a "home and a facility" in which there will be both functional design considerations and living space. Much of the second floor is living space. The main floor, former sanctuary space, will be very open, with a soaring sense of space one might expect in, say, a church.
&nbsp
"This needs to be a space to do and exhibit large-scale public art. The whole environment here is about that," Pat said. The large basement will accommodate not only more studio space, but also a music room. "I was in some rock bands earlier in my life," Pat said almost sheepishly, "but now I'm into Bulgarian music, and I play guitar with a group called The Macedonians, and I also pretend to play the bouzouki."
&nbsp
Which is my hoped-for segue into an old Alexander Pope line about church repairing:
&nbsp
"And some to church repair, Not for the doctrine, but the music there."
---