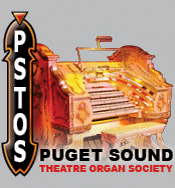 ---
Carson Residence - 3/14 Wurlitzer
Bellevue, Washington
Organ installation timeframe: 1960 - 1983
&nbsp
Back to the Northwest Theatre Organ History: Residences page
| | |
| --- | --- |
| Bill Carson with his Wurlitzer. Don French at the console. | Bill Carson was a very professional amateur organ builder. He worked for Kenworth Trucks and spent his spare time with pipe organs. He became very proficient at reed work, creating new voices by rebuilding and revoicing old pipework. Bill gained a tremendous amount of his knowledge through a close friendship with one of Robert Morton's voicers. The Posthorn that was in the Bellevue Pizza & Pipes restaurant was a Bill Carson creation and compared very favorably with a Kimball Serpent. |
&nbsp
The Carson residence organ was based around a three-manual, ten rank Wurlitzer from Seattle's Rolladium Rink. To house the instrument, Bill added an 18 foot addition to his rec-room.
This picture shows Bill at-work, seven floors up in the Paramount Theatre Solo piano/percussion chamber.
&nbsp
Bill died of cancer about 1983, and his home organ was acquired by Jerry Gould of Maple Valley, Washington.
---