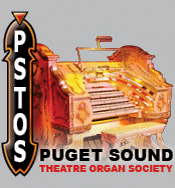 ---
Elsinore Theatre - 3/13 Wurlitzer &
3/25 Wurlitzer (new installation)
Salem, Oregon
170 High Street NE
Original organ installation timeframe: 1926 - 1962
New organ installation timeframe: 1986 - present
&nbsp
Back to the Oregon Original Theatre Installations page

Elsinore, c.1926
The Elsinore Theatre opened in 1926 and was built by George B. Guthrie, who had operated Salem's Oregon Theatre since 1912. Many of Salem's finest artisans were involved in the construction and decoration. The building was designed to look like Elsinore Castle, the setting for Shakespeare's tragedy Hamlet and the interior was appropriately designed with Tudor Gothic architecture. Created in stained glass above the entrance is the scene of Hamlet, with Portia and Lady Macbeth, greeting players to Elsinore Castle. The windows were made from stained glass pieces obtained from a cathedral in Germany that was bombed in World War I.
&nbsp
Photo and descriptive text are from the Elsinore Theatre web site: http://www.elsinoretheatre.com
&nbsp

| | |
| --- | --- |
| Prior to opening in 1926 | c.1930 |
&nbsp
Photos courtesy: Salem Public Library Historic Photograph Database, Salem Public Library, Salem, Oregon
&nbsp
On May 28, 1926, the theatre opened with a showing of "The Volga Boatman," produced by Cecil B. DeMille. A local Judge served as master of ceremonies and the Salem Mayor and Oregon Governor each gave short speeches of appreciation.
&nbsp


Elsinore three-manual console, date unknown
&nbsp
The Elsinore originally had a 3/13 Wurlitzer delivered in 1926. This instrument was a combination of new and rebuilt parts from the 1919 Oregon Theatre Wurlitzer. A three-manual console, 7-1/2 HP blower and several ranks were added including a solo string, krumet and post horn. The instrument was installed in four chambers above the proscenium. The console was located in the orchestra pit but there was no elevator.
&nbsp


Wind damage, 1962
<--- The distinctive Elsinore vertical signage remained until 1962, when the Columbus Day storm took its toll.
&nbsp
The organ was removed in 1962 by George Guthrie's son, David who had the instrument professionally installed in his West Hills Portland home.
&nbsp
The instrument was eventually sold in 1966 (or 1969) to Kirk Whitcombe of Carnation, Washington for $5,000. He installed it in several locations including a barn near Lake Sammamish and in a portable configuration using several tractor trailers. The organ was eventually moved to the Goliath's Pit club in Carnation and was later dispersed for parts in the early 1990's. The console was purchased by Dick Loderhose of Seal Beach, California.
&nbsp

&nbsp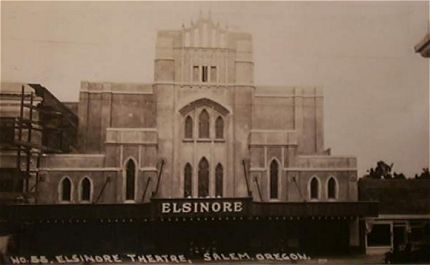 Date unknown
&nbsp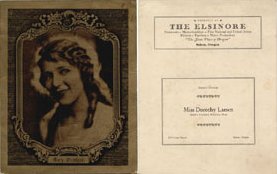 Mary Pickford promotional handout provided
by the Elsinore Theatre, c. 1920s
&nbsp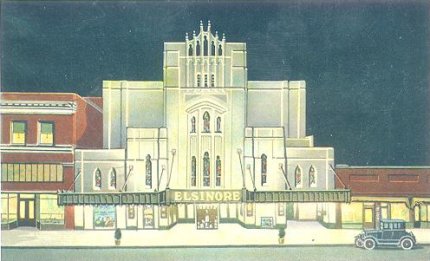 Postcard view of the Elsinore, c.1927 &nbsp

---
&nbsp
New installation: 3/25 Wurlitzer
&nbsp


Rick Parks. Photo courtesy http://www.elsinoretheatre.com
The Elsinore Theatre still operates today as the primary arts house in downtown Salem.
&nbsp
A fine 3/25 Wurlitzer was installed by Rick and Clayton Parks starting in 1986. A silent film series is presented on the second Tuesday of every month (October through May) at 7:00PM. Program is subject to change, so call ahead for information: (503) 485-3048.
&nbsp
The organ was a gift of the Parks family to the theatre and is a combination of parts from Wurlitzer opus 244 (a 2/4 Style 135B from the U.S. Theatre in Vancouver), opus 1070 (a 2/6 Style SCH25 from a theatre in Sunnyvale California), a three manual console and other components. At the time of the initial donation, the theatre was operating as the Luxury and later as the Act III Theatre.
&nbsp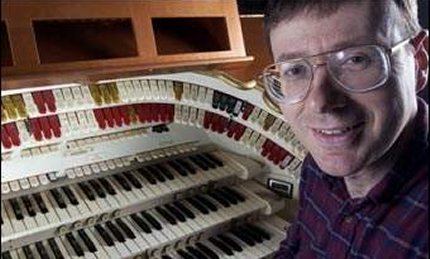 Rick Parks at the console, 2005. Photo courtesy Statesman Journal
&nbsp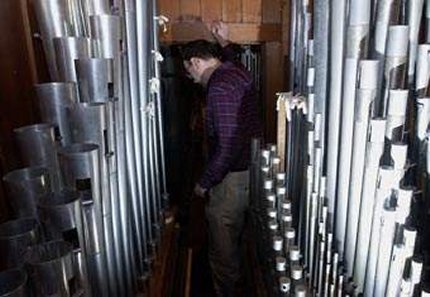 Rick in the chamber, 2005. Photo courtesy Statesman Journal
---