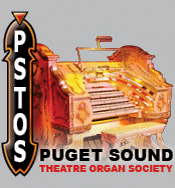 ---
Vollum Studio - 4/49 Wurlitzer, Style 285
Portland, Oregon
Organ installation timeframe: 1964-1990
&nbsp
Back to the Northwest Theatre Organ History: Residences page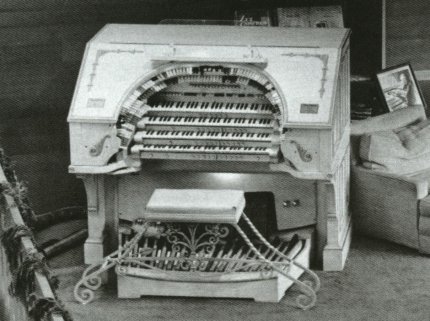 Console of the Howard Vollum residence organ
&nbsp
The Vollum residence instrument was based around the former San Francisco Granada (Paramount) 4/33, Style 285 Wurlitzer.
&nbsp
George Wright played a farewell concert at the Paramount on March 17, 1965. The theatre closed April 20 and the organ was dismantled.
&nbsp


Console of the San Francisco Paramount Theatre Wurlitzer while still in the theatre.
Howard Vollum (president of test equipment manufacturer Tektronix) purchased the instrument. It was removed from the theatre by Dennis Hedberg.
&nbsp
The Portland-based Rodgers Organ Company was very interested in the organ and supposedly had an eye to "copy cat" (according to a Rodgers ad from the time) several of the ranks electronically.
Dennis Hedberg with the help of Bob Rickett and others installed the organ in its new home.
&nbsp
The console was refinished by Rodgers in an antique white and gold style.
&nbsp
The re-installed instrument was heard at the Vollum studio during the 1966 ATOE National Meeting in Portland.

Jonas Nordwall, c. 1968
&nbsp

After Howard Vollum's death, the instrument plus a substantial sum of money towards installation costs in a municipal building was offered to the City of Portland.
&nbsp
Sadly, the offer was refused because of the extensive design changes that would have been required to accomodate it.
&nbsp
The intrument was sold and is now in installed at the Regent Theatre in Melbourne, Australia
&nbsp
Partial list of concerts:

Jonas Nordwall, October 1968

George Wright, October 1968
---