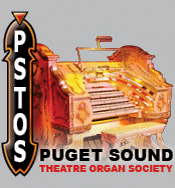 ---
&nbsp

Raupach Residence - 2/14 Robert Morton
Portland, Oregon
Organ installation timeframe: 1960's - 2001
&nbsp
Back to the Northwest Theatre Organ History: Residences page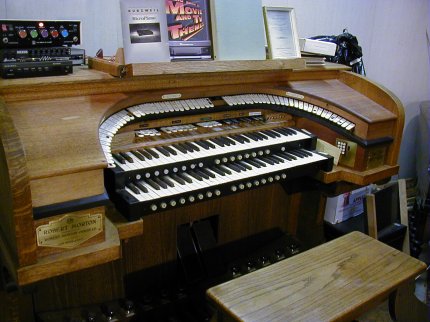 Raupach residence two-manual Morton console
&nbsp
The Dick and Rocca Raupach residence organ was based around a 2/6 Robert Morton from the Granada Theatre in The Dalles, Oregon. Other parts were added over a period of several years to make a 14 rank instrument. A portion of this instrument was installed in Dick's previous Portland-area home. It is not known if Dick acquired the organ directly from the Granada or from another party who owned it after the theatre.
&nbsp
The organ featured a Morton Flute, Diapason, Clarinet, Tibia, Quintadena, Vox, two strings and a Wurlitzer Orchestral Oboe, Vox and Kinura. According to Jonas Nordwall, the Kinura rank was from Portland's Paramount Theatre. In addition to the Morton and Wurlitzer ranks, the organ also included a Gottfried Cornopean together with a Gamba and Oboe Horn of unknown manufacturer. Some of the Morton ranks may have come from Portland's First Christian Church 3/20 Robert Morton which Dick removed together with Terry Robson and Gordon Potter.
&nbsp
Some other interesting features of the organ included a 37 note Deagan Vibraharp possibly from the original Wm. Wood organ at Oaks Park Rink in Portland and a 30 inch Chinese gong mounted outside the chamber.
&nbsp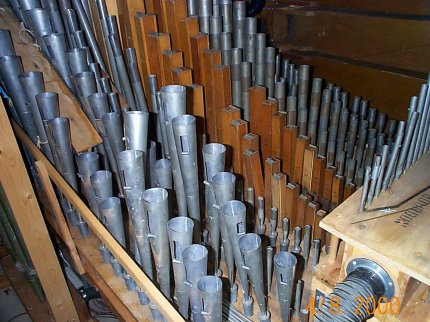 Main chest showing Cornopean, Clarinet, Flute, Diapason and Vox. Photo, courtesy Mike McDonald
&nbsp
Dick Raupach passed away in July 1999. A memorial gathering was held at the house in early August with Jonas Nordwall at the console.
&nbsp
Sometime later in 2000, a water leak developed in the bathroom above the chamber. Some of the pipework and chests were damaged.
&nbsp
In Fall 2001, the organ was purchased by Tom Blackwell of Seattle. Many of the components that could be identified as being from the original Granada Theatre instrument were donated back to the Granada Theatre Foundation for eventual reinstallation in the theatre. Other items that were not water damaged were either sold or retained for later use in the Blackwell residence organ.
&nbsp


Swell shades and gong action
&nbsp


Traps and toy counter
&nbsp


Bass Flutes and Wurlitzer Vox
&nbsp


Wood Diaphones and string offsets
&nbsp


Relay, built by Jerry Duffy
&nbsp


Regulators and trems
&nbsp


Deagan Vibraharp
&nbsp


More pipework and Bass Flutes
&nbsp


Bass chests mounted horizontally
&nbsp


More pipework
&nbsp


Quintadena, Violins, Oboe Horn, Orch. Oboe

Quintadena closeup
&nbsp


Phase convertor, built by Dick
&nbsp


5HP Spencer Orgoblo Blower
&nbsp

&nbsp

---
From the Columbia River Organ Club Clarion, August 1999:
&nbsp
We are saddened by the recent passing, on July 18th, of one of our area's most enthusiastic organ buffs, Dick Raupach. Dick was a founding member of the local (Oregon) ATOS chapter, a long-time member of PSTOS, and a charter member of CROC. He installed theatre organs in both his homes, and his 14-rank "Mostly Morton" Theatre Pipe Organ installed in the basement of his southwest Portland home was particularly well-known in recent years.
&nbsp
Dick was born in Milwaukee, WI in 1928. He graduated from Bend High school, and obtained his electrical engineering degree from Oregon State University. In addition to service in the US Army Signal Corps, he worked for the Bonneville Power Administration and other organizaions until his retirement in 1987. His colorful personality and wry sense of humour will be missed.
&nbsp
A memorial service was held at Young's Funeral Home on Saturday, August 7, 1999. A party followed the service, at Dick's home. Jonas Nordwall played the "Mostly Morton" organ.
---