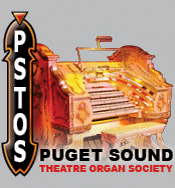 ---
Phillips Residence - 2/7 Wicks
Portland, Oregon
&nbsp
Back to the Northwest Theatre Organ History: Residences page

Doug Phillips' two manual Wicks console
This instrument was originally installed in LaGrande Oregon's Liberty Theatre. After the theatre, the organ had several more owners including the Granada Theatre in the same town, Bob Rickett of Portland and St. Rose's Catholic Church in Portland.
&nbsp
The original console was modified extensively when owned by Bob Rickett. A new shell was built around the original Wicks keydesk.
&nbsp
Doug Phillips purchased the instrument from St. Roses in the early 1960's. Bob Rickett and Dick Chase did the initial installation in Doug's home. At that time, the instrument included the following five ranks: Diapason, VDO, VDO Celeste, Flute and Dulciana. All percussions and traps had been removed prior to installation in the church. Doug worked for several years to bring the instrument back to a 7 rank theatre organ complete with traps and percussions. The work was completed in late 1963.
&nbsp
The organ was later sold to Jerry Gaylord and installed in his home.
&nbsp
The instrument is currently owned by Don and Alva James of Hillsboro, Oregon. It is playing in their home.
---