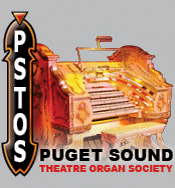 ---
Haskin Residence - 4/36 Robert Morton - Wurlitzer
Portland, Oregon
Former Bob White Theatre building, 6423 S.E. Foster Rd.
Organ installation timeframe: 1990 - 2010
&nbsp
Back to the Northwest Theatre Organ History: Residences page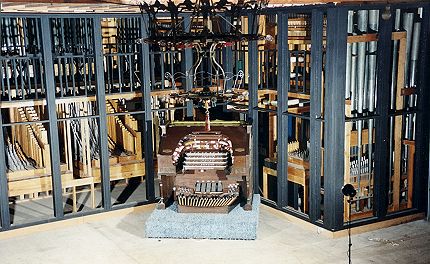 The Haskin four-manual Morton at 9005 S.E. 82nd, c.1989
&nbsp
The Haskin residence organ was based on a 4/22 Robert Morton originally from San Francisco's Orpheum Theatre. The organ was purchased from the theatre, restored and donated to Piedmont High School (near Oakland) by J. B. Nethercutt. Due to changing circumstances, the school canceled the project and sold the instrument to Dale Haskin in 1980. Dale installed the organ at 9005 S.E. 82nd Ave in Portland. The installation was never completed due to pressure from developers to build a large regional shopping center on the site.
&nbsp
In 1990, Dale acquired the former Bob White Theatre, located near 63rd & Foster in Portland. The large Morton was being installed as time permits. 12 ranks were added, including both Morton and Wurlitzer sets.
&nbsp
Dale died in late 2009 and his vast collection of theatre pipe organs was disbursed to a number of parties including the Columbia River Theatre Organ Society.
&nbsp

---
&nbsp
Dale owned several other large instruments including the 1926 former-San Francisco Fox Burlingame 3/13 Robert Morton. This organ was removed from the theatre in 1958 by PSTOS member Dave Schutt. It was installed in Pete Sweeney's Visalia, California residence. It was eventually purchased by Rod Burton and installed in the Marin Pizza Pub. When that establishment closed, the organ was put up for sale and purchased by Dale Haskin. The instrument has been for sale on and off over the years. Dale also had a 2/11 Robert Morton instrument removed from Oakland's Tenth Avenue Baptist Church and the 2/4 Morton from Silverton's Palace Theatre.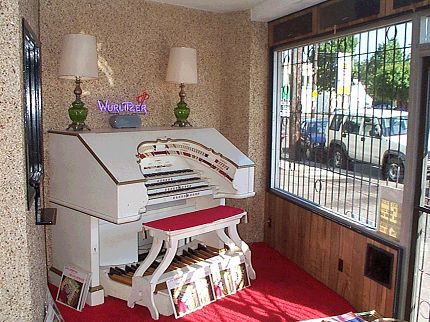 Console of Haskin "lobby" organ, a 3/13 Wurlitzer
&nbsp


Lobby organ pipework
&nbsp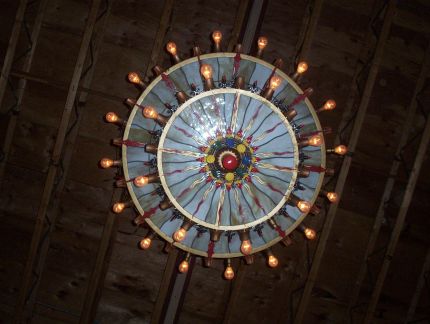 Chandelier (one of 4) from Portland's Broadway Theatre
&nbsp


Lobby organ pipework
&nbsp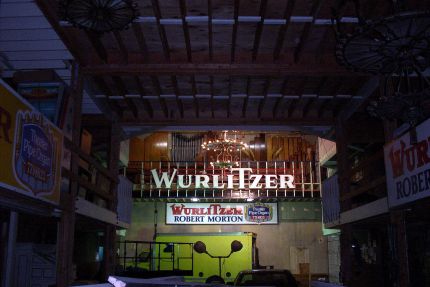 Warehouse area
&nbsp

---
From Theatre Organ, Vol 5 No 4, Winter 1963-64, page 19:
&nbsp

| | |
| --- | --- |
| S.F. Orpheum console | This large instrument is the former San Francisco Orpheum (Pantages) Theatre organ. In the theatre, most of the pipework was installed in typical balcony-level chambers on either side of the proscenium. Interestingly, seven of the ranks ranks were put into an understage chamber and three additional ranks were in an Echo chamber located in the ceiling at the rear of the auditorium. |
After talkies had been on the scene for several years, the stage was extended over the orchestra pit and microphones were installed under-stage. The covered-over ranks were amplified through the backstage soundfilm speakers.
&nbsp
When Cinemascope was introduced, remodeling to accomodate the wide screen rendered the organ almost useless since the stage was extended over the orchestra pit blocking tone egress from the understage chamber.
&nbsp

---
From The Console, V18, No 8, August 1980, pp3:
&nbsp
SAN FRANCISCO ORPHEUM MORTON IS SOLD TO PRIVATE PARTY FOR HOME
&nbsp
Sale of the former Pantages/Orpheum Robert-Morton four manual theatre pipe organ to Dale Haskin, who reportedly resides in the state of Oregon, for $19,000 was made this month when the Piedmont School officials opened bids for the instrument. It had been donated by J. B. Nethercutt for installation in the Piedmont High Auditorium, but, according to school officials, the passing of Proposition 13 cut off funds that might have been used to erect the organ.
&nbsp
It was learned, but not substantiated that Haskin has plans to install the organ in his residence. He also owns a smaller instrument that is now in his home.
&nbsp
*Nor-Cal Bid $3,500*
&nbsp
Northern California Chapter ATOS bid $3,500 and attempted to convince the school officials that the sum would pay storage charged on the organ that have accrued since its donation and that the Morton could then be donated to the chapter for installation. Apparently the size of the top bid of $19,000 overshadowed any ideas of giving the organ away for tax deduction.
&nbsp
The price was a bargain for an instrument the size of this one. Large rank organs have been bringing much higher returns for their owners.
&nbsp

---
From The Oregonian, May 7, 2002 by Steve Duin
&nbsp
Who's crying 'Fire!' in this crowded theater?
&nbsp
Dale Haskin has never tried to separate his theater from his theater of the absurd. And that's just as well. They occupy the same 5,500-square-foot building that Haskin calls home on Southeast Foster.
&nbsp
Back in 1986, Haskin bought that building, the old Bob White theater. Built in the 1920s, the Bob White had a grand life as a neighborhood movie house before it went broke, showing porn flicks and Vietnamese features in the early 1980s.
&nbsp
Haskin has no interest in movies. "I've never run a movie in my life," he said. "That's not my bag. The building is my bag." That's because the Bob White provides him with both the small quarters he requires to live and the massive space necessary to reconstruct a theater organ that once lit up San Francisco's Orpheum Theater.
&nbsp
Haskin is the first to boast he is an eccentric. He heads the Rose City Theater Organ Club, which has a membership of one. He keeps house with hundreds of tibia pipes and a pair of wind turbines. He is a bundle of moving parts, invariably bending at the knees to provide more oomph for his exclamation points.
&nbsp
But he was an eccentric living peacefully and quietly, desiring only to be left alone, until the Portland Fire Bureau arrived at his door last spring, demanding to inspect his "place of business."
&nbsp
The bureau has been working overtime to catch up on its mandate to inspect all buildings and premises in town except private residences. Although Haskin has been living at the ol' Bob White for 16 years in what the bureau concedes is "an approved apartment," Fire Marshal Jim Crawford argues Haskin "has an illegal occupancy."
&nbsp
"He's living in space that wasn't designated as residential. In some cases, that doesn't represent a safety hazard, but we have to get inside to find that out."
&nbsp
For the last 363 days, Haskin has barred his door to fire inspectors, despite a threatened civil penalty of $1,000 per day. When he unlocked that door for me Monday and gave me the guided tour, this much was obvious:
&nbsp
There's plenty of combustible material in the unheated barn. While the lobby is a neat, sparse homage to the Bob White's former life, the seats and aisles in the auditorium are jammed with what Haskin calls "the parts of the monster," percussions snoozing under old blankets and enough lumber to toast marshmallows into the next millennium.
&nbsp
But, Haskin insists, it's his tinderbox and his home. The electrical system is up to code. He has security gates, smoke alarms and a 35-foot-high concrete wall that separates the building from the adjacent apartments.
&nbsp
"I'm no fire hazard to anyone but myself," he said. "And I paid $37,000 in property taxes last year. If I do have a fire, I've paid for my share of fire protection."
&nbsp
"That's callous and shortsighted," Crawford said. "He's not an expert on what's going to happen in that fire. He's not just putting himself at risk, but his neighbors and firefighters as well."
&nbsp
The bureau says Haskin has two options: have the former theater declared a private residence or allow inspectors access to the space outside his apartment.
&nbsp
Haskin has problems with both choices. He claims folks at the Planning Bureau advised him not to change the usage because it would reduce the value of the property once he renovates the theater organ and moves on. (What's more, Crawford admits, a change of usage would only add to the city's legal protection, not diminish the potential fire hazard.)
&nbsp
On the other hand, Haskin feels that if he lets fire inspectors inside his curiosity shop, he'll forever open the door to a bureaucracy that will demand he keep the aisles clear in a "business" that hasn't shown a movie or sold a box of popcorn in 18 years.
&nbsp
"That's how bizarre the whole thing is," Haskin said. "I can sit and be casual in my apartment upstairs, but they want to claim the rest of the building is an open nest, an open book, for them.
&nbsp
"And if they tell me I can't rebuild my theater organ? In my theater? Which is my home? Then my lifetime of work and ambition is over."
---
&nbsp
A letter from Dale Haskin to the The Oregon Observer, May-June, 2002
&nbsp
Surprise letter from city wants $283,000.00 in fines
&nbsp
Bought as a simple "dream home" because of a lifetime hobby (music), the old abandoned Bob White Theatre (located on SE Foster Road in Portland, Oregon) was small, but still the "perfect answer." The year was 1986, the last movie was shown to the public in 1984.
&nbsp
The theatre had a legally built-in apartment and a large family room that had several hundred seats, a tiny stage and good acoustics, the foundation for the hobby of "theatre organ," of which (one) was installed when the building opened back in the 1920ís.
&nbsp
The property tax status was changed to residential in the late 1980ís. PGE moved their meter outside the building and my residential phone number for some 34 years was immediately operating in my new home.
&nbsp
For 15 years, life with my hobby was quiet, peaceful and fun for a single man and his son who had many interests in our home as well. Occassionally, a friend would be over for coffee and organ music. Even Mayor Katz wrote that my home "sounds very unique."
&nbsp
In 2001, I received a stiff letter from the Portland Fire Department (PFD) demanding access to my home; my business!! "My what???" There is no business here; none; non-existent!!!
&nbsp
I have been retired for many years, the theatre has been shut down for years; there are no films, no popcorn, no business license, in fact, not even a movie screen. A sign card placed in the window since 1986 states; private residence; theatre closed; not for lease; not for sale.
&nbsp
The threats have escalated that the PFD will enter my home or else. To them, only one part of my building is the legally documented living quarters and the other part is a open "nest" to the PFD. The ordeal has expanded to the to the threat that I must change the occupancy of the entire building to a "private residence" or else.
&nbsp
After many rounds with the City Planning and Development Department I have been warned by them that to not change the usage or the value of the property will greatly suffer when I am ready to move on, which is a personal goal of mine.
&nbsp
I received a casual letter on January 2, 2002, from the PFD asking me how I was doing to resolve the problem with them. The letter warned that if there was no compliance within 30 days they would take disciplinary action against me.
&nbsp
On January 28th I sent them a certified letter explaining my updated situation, well within the 30 days.
&nbsp
I then received a letter dated February 12th containing the wrath of hell. This letter warned me of a $283,000.00 fine, plus an additional $1000.00 per-day if I didnít show up at a March 7th hearing. I guess I must now plead to save my private property, my rights and my home to try to assure myself that America is still a free country.
&nbsp
Whatís next? Whoís next?
&nbsp
Sincerely
&nbsp
Dale Haskin
&nbsp
Portland, Oregon
---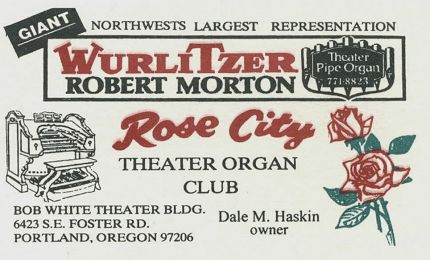 ---