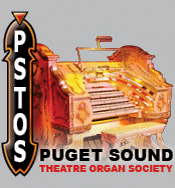 ---
Bagdad Theatre - 3/12 Kimball
Portland, Oregon
3702 SE Hawthorne Blvd.
Organ installation timeframe: 1927 - 1950's
&nbsp
Back to the Oregon Original Theatre Installations page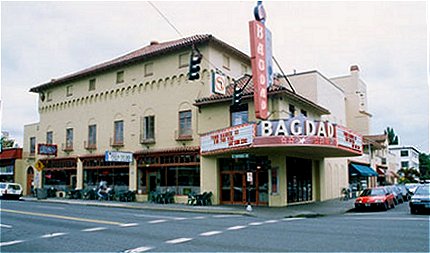 Bagdad Theatre
&nbsp


Bagdad Theatre c. 1944
The Bagdad Theatre originally had a Kimball theatre pipe organ installed in 1927 at a cost of $16,500.
&nbsp
The Bagdad Theatre building still exists. It is operating as the Bagdad Pub & Theatre which offers a unique "beer & bijou" combination. The McMenamin brothers started this concept in 1987 and it has been implemented in other parts of the country.
&nbsp
According to William Hansen, the Bagdad Kimball "...extended the top manual of a few speaking stops with every trap on the organ. Quite a waste of stopkeys. The [instrument] had a straight four rank tenor C chest for solo colors on the second manual and then one of those strange top manuals with the traps. Still it was a magnificent organ in that live house. It had eight rather minimally unified ranks in addition to the four rank straight chest. Oh, but what sounds!"
&nbsp
Bagdad Theatre, 3/12 Kimball Stop List courtesy Jim Stettner 2003
&nbsp


Kimball console in the theatre, date unknown
&nbsp

In the 1950's the organ was removed and placed in the private residence of Ted Marks.
&nbsp
In the early 1990's Ted's widow sold the organ. It was crated for shipment to a restaurant in Ontario, Canada. Unfortunately, the deal fell though and it remained packed in crates until 1993 when it was installed in a restaurant in Trenton, New Jersey.

Bagdad c. 1998
| | |
| --- | --- |
| Console as installed in the Galaxy Theatre, Theatre, Guttenberg NJ | In 1994, the organ was sold and moved to the Galaxy Theatre in Guttenberg, New Jersey. While at the theatre, it was played before the feature films and for occasional silent movie series. |
The organ was later removed from the Galaxy Theatre. Current status is unknown.
---
The following comments are from PSTOS member Dave Schutt via the PIPORG-L Internet mailing list (May, 1998):
&nbsp
"This organ is now in the Galaxy Theater in Guttenberg, New Jersey. It's "Muted Cornet" rank is very unusual. Nelson Page (a recently-appointed member of the ATOS Board of Directors) and Jeff Barker are responsible for the quality installation in the Galaxy."
---