---
Liberty Theatre - 2/8 Wurlitzer, Style F
North Bend, Oregon
Organ installation timeframe: 1924-1943
&nbsp
Back to the Oregon Original Theatre Installations page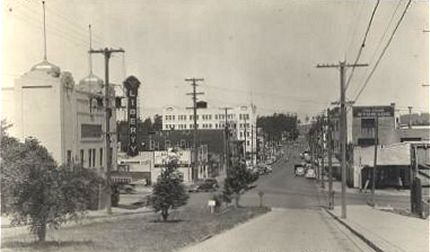 Liberty Theatre on left, c.1940
&nbsp
The Liberty Theatre originally had a 2/8 Wurlitzer (opus #776) shipped from the factory in January 1924.
&nbsp
In 1943, the organ was removed from the theatre and installed in Seattle's Show Box Club by Balcom & Vaughan.
&nbsp
In 1960, the organ was sold to Don French. Then in 1970 it was moved to Tacoma's Steve's Gay Nineties restaurant.
&nbsp
The pipes, percussions, windchests and trems are now owned by Russ & Jo Ann Evans of Kenmore, Washington near Seattle.
---