---
Pitts/Allen residence - 4/14 Wood
Newport, Oregon
Organ installation timeframe: 1968-2003
&nbsp
Back to the Northwest Theatre Organ History: Residences page

Four-manual William Wood console.
&nbsp
Richard (Dick) and Mary Pitts installed this 1922 William Wood organ in their home in 1968. The instrument was previously installed at the Oaks Park Roller Rink in Portland and was removed in 1955. It went to another roller rink at the Point Adams Army base for a few years and then was moved to storage. Dick purchased the instrument in 1963 having heard about its availability from a customer that came into his River Bend boat shop. Dick obtained the organ in pieces. Over the next few years he restored it to playing condition and added several ranks including three from Buddy Cole's studio organ. There was never any combination action. The first sounds were played in January 1968 and the organ provided many years of enjoyment for the Pitts family.
&nbsp
Dick Pitts died in 1977. In 1996, Mary sold the home and organ to Arthur Allen who purchased the home specifically because it had an organ installed. Prior to retirement, Mr. Allen was an executive of a Washington state short line railroad.
&nbsp
The instrument is currently augmented with Morton and Wurlitzer pipes. It is 14 ranks.
&nbsp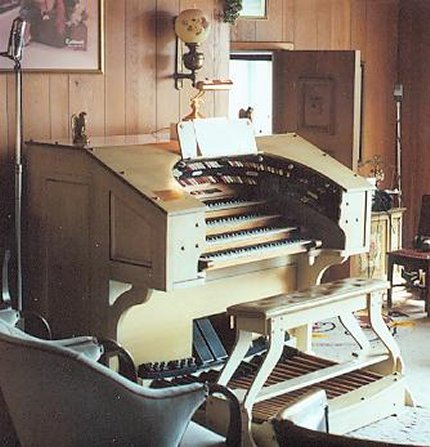 &nbsp


Eric Shoemaker at the console.
&nbsp
Photos, courtesy Matias Bombal 2001
&nbsp
In 2003, the organ was parted out by two Portland area enthusiasts. The instrument had been offered to two different charitable groups for placement in a public setting, but the need for a quick removal caused a change in plans.
---