---
Chase Residence - 3/14 Robert Morton - Wurlitzer
Corvallis, Oregon
Organ installation timeframe: Early 1960's- 1967
&nbsp
Back to the Northwest Theatre Organ History: Residences page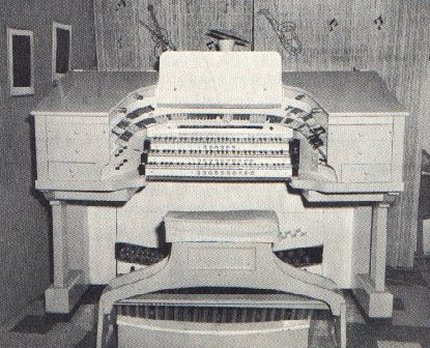 Dick Chase three-manual Morton console
&nbsp
The core of this instrument was the Style 235 Wurlitzer from Loew's Century Theatre in Baltimore, Maryland. Nine of the 14 ranks were from this instrument and were purchased from Bob Rickett of Portland. The organ was installed in the Chase residence in the 1960's and was controlled by a three-manual Robert Morton console from the Ritz Theatre in Tulsa, Oklahoma. ** This console was purchased from Russ Nelson of Orange, California. All the chests, trems and regulators were Wurlitzer. A Page relay was used to control the added ranks.
&nbsp
When Dick's health began to fail, he sold the organ to Gordon Potter or Portland.
**
Editor's note: The Junchen opus lists show a four-manual instrument going to the Ritz Theatre.
---