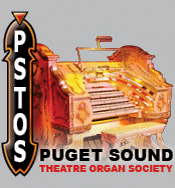 ---
Fox Theatre - 2/6 Kimball
Victoria, B.C.
2657 Quadra St.
Organ installation timeframe: 1962 - 1966
&nbsp
Back to the Theatre Re-installations page
Back to the B.C. Canada Original Theatre Installations page
The Fox Theatre opened in 1949. It was a steel Quonset-type structure with 450 seats.
&nbsp


1949. Image courtesy Royal BC Museum, public domain.
&nbsp


1949
&nbsp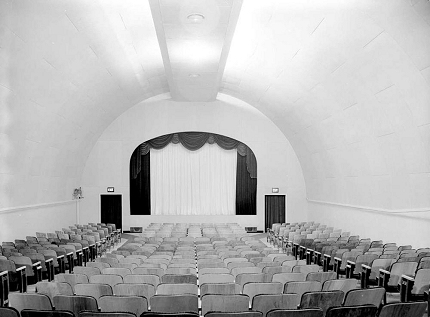 Fox auditorium, 1949. Image courtesy Royal BC Museum, public domain.
&nbsp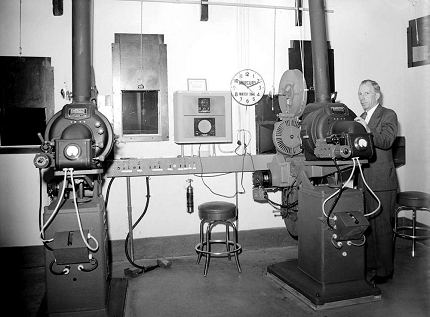 Fox projection booth, 1949. Image courtesy Royal BC Museum, public domain.
&nbsp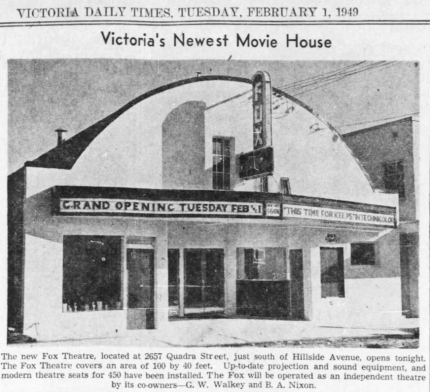 Victoria Daily Times, February 1, 1949
&nbsp


Quadra Street, 1959. Image courtesy City of Victoria archives, public domain.
&nbsp

---
&nbsp
In 1962, a 2/6 Kimball organ was installed. This instrument was originally installed 1924 in the St. Helens Theatre in Chehalis, Washington (KPO opus #6748). The organ was sold in 1952 for $1,000 to Glenn White of Seattle who installed it in his parent's Seattle home in the Queen Anne neighborhood. In 1962 Mr. White sold the instrument to Canadian organist Reginald Stone who comissioned him to install it in Victoria's Fox Theater.
&nbsp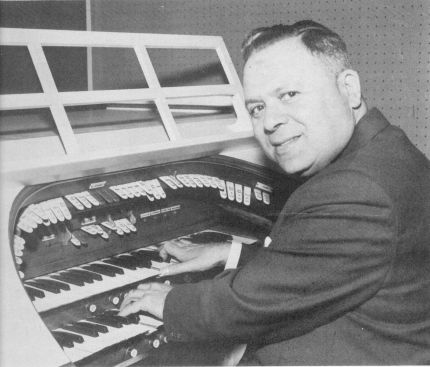 Reginald Stone at the Fox Theatre Kimball, date unknown
&nbsp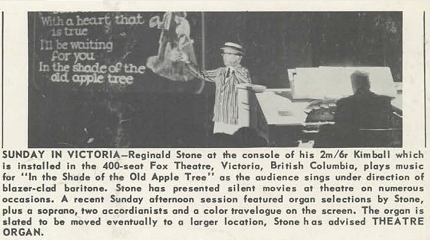 News item from THEATRE ORGAN, Spring 1964. Reginald Stone accompanies a sing-a-long at the Fox Theatre Kimball.
&nbsp
Because it was a Quonset hut-type structure, the Fox Theatre did not have traditional organ chambers. It's likely the organ was installed on the stage area, behind the screen. In fact, in checking recent Google Maps views of the streets and alleys surrounding the theatre, a large "shed" can clearly be seen on the back of the theatre.
&nbsp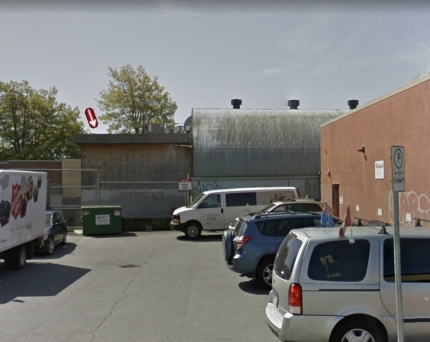 2018 Google Maps view of the theatre showing large "shed" installed off the back.
&nbsp

Reginald Stone made an LP of the Fox Theatre Kimball on the Aragon label.
&nbsp
In 1966 the organ was sold to Frank Mankin of Burnaby who installed it in his home studio.
&nbsp

---
&nbsp
Over the years, the theatre changed its name to Quadra in the 1960s and Roxy in the 1980s.
&nbsp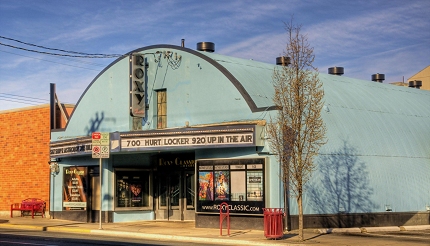 Roxy Theatre, 2010. Image courtesy Lotus Johnson
&nbsp
In 2013 the theatre was acquired by the Blue Bridge Repertory Theatre, presenting live productions of great theatre works of the past.
---