---
Beeks Residence - 3/13 Wurlitzer-Smith
Skagway, AK
Organ installation timeframe: 1989 - 2005
&nbsp
Back to the Northwest Theatre Organ History: Residences page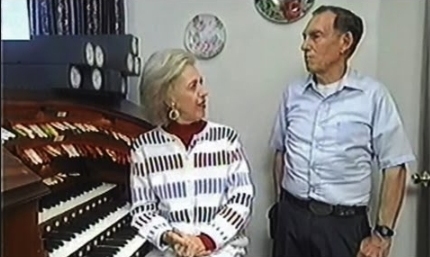 Diane Bish at the console, with Fred Beeks c.2000
&nbsp
The Fred & Eva Beeks home organ was based on a Style D Wurlitzer (opus #1232) originally installed in the California Theatre Dunsmuir, California. They acquired the organ from Vernon Gregory who had installed it on an upper floor of his San Francisco business. To the Wurlitzer, Gregory had added a six rank Smith organ which was also acquired by the Beeks. The Wurlitzer console was enlarged to three manuals during the time it was owned by Gregory.
&nbsp
Fred and Eva first installed the organ in their home in Revo, Nevada in 1967. In the late 1980's they moved to Skagway, Alaska and built, largely by themselves, a custom home to house the organ. At this time, Fred added a second stop rail to the console to more adequately control the instrument's 13 ranks. He also designed and built a custom roll player.
&nbsp
Well known classical organist Diane Bish recorded a video during a visit to the Beeks home as part of her Music Tour of Alaska. The video upload date is 2010, but the visit occured quite a few years earlier.
&nbsp
In 2000, the Beeks home and organ were also featured on an episode of HGTV's "Extreme Homes" (Season 5 Episode 3).
&nbsp
In 2005, Fred & Eva made plans to move back to the "lower 48" in Anacortes, Washington. They investigated various possibilities for donating the organ. The organ's original theatre home (Calfornia Theatre in Dunsmuir) was Fred & Eva's first choice. The theatre initially accepted the donation, but then reneged once they became aware of the logistics and timeframe associated with installation.
&nbsp
Fred later contacted several other venues including the Fox Theatre in Centralia, Washington. They met Bob Corl and Claudia Simpson-Jones of Opera Pacific, new owners (at the time) of the Fox. Opera Pacifica's long range plans included re-installation of a pipe organ at the Fox and when Fred telephoned in 2005 with offer of a pipe organ and free installation, Bob and Claudia were overjoyed. More information is available on the Centralia Fox Theatre page.
---