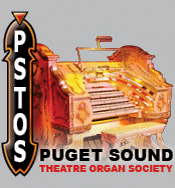 ---
Butte Residence - 2/9 Wurlitzer
Anchorage, AK
Organ installation timeframe: 1965 - 1979
&nbsp
Back to the Northwest Theatre Organ History: Residences page

Wurlitzer console at Rainbow Drive residence in Anchorage, 1978
&nbsp
The Franklin Butte Wurlitzer (opus #569) was originally from the Whiteside Theatre in Corvallis, Oregon installed in 1922. After the a fire at the theatre in 1927, the instrument was removed and refurbished for installation in the Lewiston, Idaho Liberty Theatre. In 1934, Balcom & Vaughan moved the instrument to Portland's Apostolic Faith Church at 3rd and Burnside. Franklin acquired the instrument in 1956 from Portland organ builder Roman Guenther who had recently removed it from the church.
&nbsp
Franklin subsequently installed the organ in three of his residences (with a stop in a Juneau church along the way)!
1956 - His father's house in N.E. Portland
1961 - Northern Lights Presbyterian Church in Juneau
1965 - Franklin's first Anchorage residence on Baxter Rd.
1971 - Franklin's second Anchorage residence on Rainbow Dr.
&nbsp
Note: Several of the dates shown above differ from what is listed in the Wurlitzer online opus list. The dates from firsthand accounts provided by those directly involved (Franklin Butte and J. Allan MacKinnon) are used instead.
&nbsp
In 1971, Franklin added a Style 210 Wurlitzer console from Chicago's Riviera Theatre (opus #279).
&nbsp
An article in THEATRE ORGAN Fall 1978 (Vol20 No3, pp12-14) provides Franklin's firsthand account of the instrument and its history.
&nbsp
Frank died on February 1, 1979. His residence organ was purchased from the estate by J. Allan & Margaret MacKinnon of Juneau, Alaska.
&nbsp
More information about Franklin's life, including words of remembrance published in the THEATRE ORGAN Journal can be found on Frankin Butte's organist page.
---
Recordings of Franklin Butte at his Anchorage residence organ
&nbsp
Date: 1971
Recording: Dwight Finger


Three O'Clock in the Morning &nbsp&nbspFormat: MP3 (96Kbps), Size: 4.3MB
&nbsp


Blue Moon &nbsp&nbspFormat: MP3 (96Kbps), Size: 3.4MB
&nbsp


Our Director March &nbsp&nbspFormat: MP3 (96Kbps), Size: 2.7MB

---