---
John Atwell Plays Outstanding Concert
Saturday July 11, 1998
&nbsp


Original concert announcement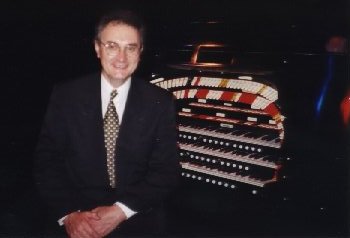 John after his Washington Center performance
&nbsp
It was with much enthusiasm PSTOS members welcomed John Atwell's return to the Puget Sound area after an absence of three years. An audience of about 175 gathered at Olympia's Washington Center Saturday, July 11, to hear John perform on the fantastic Wurlitzer. John chose a broad range of music types and styles for his very enjoyable program, and truly played "something for every taste"!
&nbsp
The organ has been meticulously installed over the past several years by members Andy Crow and Les Lehne, with a Uniflex 2000 computerized control system installed by Colorado Pipe Organ Service-Ed Zollman and Patti Simon-Zollman. The Zollmans continue to watch over and service the instrument.
After-Glow trip to Yelm included lots of great music, food and camaraderie!
&nbsp
After the Olympia program, nearly everyone drove on to Yelm and the St. Columban Church parish hall to see and hear the 3/10 Robert Morton theatre pipe organ being installed for Father Terence Wager. This is a "work-in-progress", also by Andy Crow and Les Lehne. The organ was originally from the Tacoma Pantages theatre. [Known as the Roxy for many years, it has taken back the Pantages name following the recent theatre restoration.]
&nbsp

| | |
| --- | --- |
| The organists who initiated Father Terence's Robert Morton (left to right): Heath Wooster, Patti Simon, Andy Crow, Don Wallin, Ron Hemmi, John Atwell. Not pictured: Father Terence Wager, Don Myers. | |
Much delightful music was presented strictly "off the cuff" by the many fine organists in the crowd-including Andy Crow, John Atwell, Patti Simon, Don Wallin, Ron Hemmi, and Australia's entry in the just-completed ATOS Young Organist's Competition, Heath Wooster. The Altar Society of the church provided a delightful light buffet supper for 155 people! There were many comments from members, all saying they would enjoy more such social activities.
&nbsp

| | |
| --- | --- |
| | Someone magically produced an Australian flag, proudly displayed by the two Aussie performers, Heath Wooster and John Atwell. Patti Simon dutifully offered her rendition of "Waltzing Matilda" to round out the "flag ceremony!" |

&nbsp

---