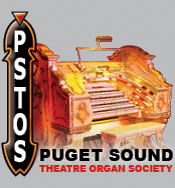 ---
Uncle Milt's Pizza Co. - 3/18 Wurlitzer
Vancouver, Washington
&nbsp
Back to the Uncle Milt's Pizza Co. page
&nbsp


WORLD'S LARGEST HORSESHOE CONSOLE HELPS TO SELL PIZZA
Excerpt from The Console magazine, June 1980 (v18, No 6, pp1,5):
&nbsp
IDEA FOR BIG KEYDESK ENTRANCE CONCEIVED BY ARTIST AND OWNER AND BUILT FROM JUST A SKETCH
&nbsp
There have been designs drawn for massive multi-level manual organ consoles that could hardly be expected to serve any purpose other than having conversation value. The largest consoles are the great Atlantic City Auditorium Midmer Losh giant and a six-manual Barton in the Chicago Stadium, plus the great classical Wanamaker keydesk in Philadelphia. And there have been attempts to build grant pianos on a large scale to serve as entry into a piano sales store (the big Red Grand on Venice Blvd., in Los Angeles that advertised the old Manning Piano Company) - but information is not readily available that would in any way refute the claim that Uncle Milt's Pizza Parlor in Vancouver, Washington, has the biggest three-manual organ console and exterior pipe display to be seen anywhere! And it's a mighty fine replica of what a theatre organ console looks like.
&nbsp
The idea to build the console was conceived by an artist friend of owner Milton Kieffer, and himself. "The plans for the structure were never drawn and we worked from a drawing, which was just little more than a sketch," Kieffer said.
&nbsp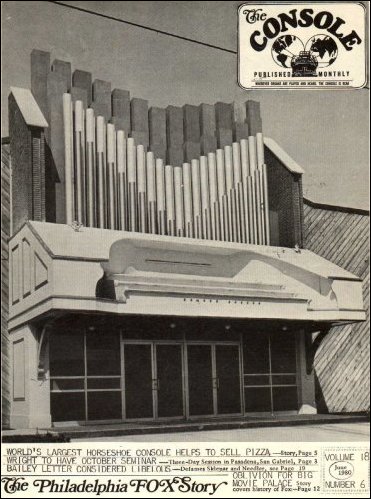 &nbsp

Located at 4th Plain Blvd. and Grand Blvd., in Vancouver, just across the street from the 4th Plain Fred Meyer Store, the pizza parlor was built in an abandoned church and has about 14,000 square feet of interior space. The restaurant seats 450 people on the main floor and in the balcony.
&nbsp
The organ is a hybrid and came from several sources - the console is from the Capitol Theatre, Atlantic City, N. J., the bulk of pipework are out of the Seattle, Washington, Orpheum Theatre Wurlitzer. "I purchased the Orpheum instrument for this installation from Harry Dost in Seattle," Kieffer noted. The pizza organ is a three-manual, 18-rank instrument with two Tibias (both Wurlitzer, as are most of the ranks), Tuba Horn, Brass Trumpet, two Vox Humanas, Horn Diapason, Diapason, Viol, Viol Celeste, 49-note Brass Trumpet, Clarinet Kinura, Orchestral Oboe, Oboe Horn, Flute, Salicional, and a Moller Post Horn. There is a toy counter, marimba, xylophone, chimes, chrysoglott, piano and glockenspiel.
&nbsp
The console rises three feet on its own lift to stage level from the floor. Judging from the photo of the interior, pizza patrons also enjoy occasional music other than the Wurlitzer - the stage is loaded with musical instruments and various speakers that look to be part of musical instrument amplification.
&nbsp
This is the first restaurant venture for Milton Kieffer. He has been an organ buff for quite a spell - 15 years with electronics and about six or seven years in pipes. He owns another Wurlitzer, a two-manual, ten-rank organ that is installed in his home in Vancouver. "I have frequent concerts for ATOS in my home on the Wurlitzer. It is Opus 1885 and came from the Roxy Theatre in Irvington, New Jersey. I enjoy rebuilding and refinishing theatre organs although I do not play them," he added.

---