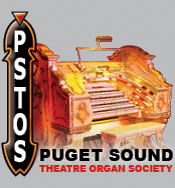 ---
Liberty (Lois) Theatre - 2/4 Robert Morton, Style 75
Toppenish, Washington
211 S Toppenish Ave
&nbsp
Back to the Washington Original Theatre Installations page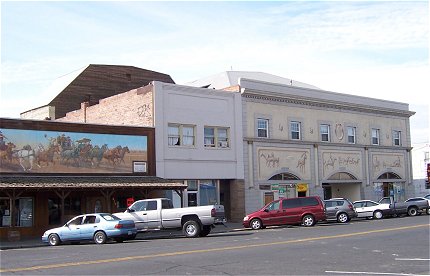 Liberty (Lois) Theatre building looking across Toppenish Ave. Note large wood-sided fly loft above stage area.
&nbsp
The Lois Theatre originally had a two-manual, four rank, Style 75 Robert Morton organ installed in 1921. This instrument was most likely positioned under the stage since no provision for organ chambers was made in the 1915 building. Fate of this organ is unknown.
&nbsp


Informational sign in one of the front door windows
&nbsp


Liberty Theatre entrance. Murals add faux architectural detailing
&nbsp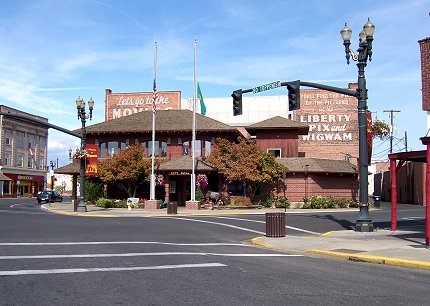 Signs on another Toppenish Ave. building advertise three of the original theatres.
&nbsp

---
The following is an edited version of information found on a former Liberty Theatre web site:
&nbsp


Lois Theatre, c. 1915
The Liberty Theatre, originally called the Lois, was built in 1915 by Dr. Hiram M. Johnson.
&nbsp
In 1915, Toppenish enjoyed the reputation of being the "entertainment center," of Yakima County. Toppenish boasted four movie theatres, 32 bars, and 13 houses of "ill repute."
&nbsp
Initially designed as a stage theatre, it had a very large main floor, two balconies, and four box seats. It had five dressing rooms beneath the stage, an orchestra pit, and a three bedroom apartment suite on the second level. Just before the Theatre opened, plans were made to install a projection booth on the second balcony. That balcony was completely walled off, thus limiting the spacious seating capacity to 800. Consequently, the Theatre was never seen as the three level opera house it was envisioned to be, until a 1994 rebuild that opened the third balcony.
&nbsp

| | |
| --- | --- |
| Traveling shows and local theatre were presented on the stage. Many famous stars of the era appeared in Toppenish, such as Raymond Navarro, Lillian Gish, The Arizona Wranglers, and Tex Ritter and his horse. A local theatre group performed plays for the enjoyment of the community. | Lois Theatre, c. 1921 |
&nbsp


Liberty Theatre, c. 1928
On New Years day 1927, the theatre became officially known as the Liberty Theatre, after being extensively remodeled.
&nbsp
Upon the death of the Theatre's owner in 1930, the funeral for Dr. Johnson was held at the Liberty Theatre, with Dr. Johnsons body lying in repose on the theatre stage.
&nbsp

The theatre was purchased in 1931, by Howard Hughes, numbering it among other acquisitions in the West to promote his avid participation in the movie production industry.
&nbsp
Movies were continually shown in the Liberty Theatre until 1984 when the building was closed and considered for demolition.
&nbsp


A Bond Drive, c. 1944
| | |
| --- | --- |
| Restored ceiling and fuxtures | Fortunately, the Liberty Theatre still exists. Over the past several years, a restoration of the lobby, mezzanine, as well as the theatre ceiling, has restored them to their original grandeur. The front of the building has been repaired and returned to its original streetfront. |
&nbsp
An interesting part of the restoration has been the removal of the projection booth and the second balcony wall. The full 3-tiered effect can be seen for the very first time.
&nbsp
The Historic Liberty is once again the site for weddings, receptions, reunions, concerts, and theatrical productions.
---