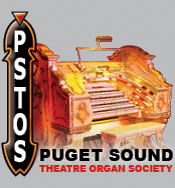 ---
Seattle Pacific College - 3/15 Kimball
Seattle, WA
&nbsp
Back to the Northwest Theatre Organ History: Other Installations page

Gaylord Carter at the Seattle Pacific College Kimball, c. 1967
This instrument was originally installed in Seattle's Neptune Theatre in 1921. It was later moved to Seattle Pacific College (now University).
&nbsp
On September 8th 1967, PSTOS welcomed the famous Gaylord Carter to McKinley Auditorium of Seattle Pacific College. After his "Perfect Song" theme from Amos & Andy and a medley of movie tunes, Gaylord accompanied the Charlie Chaplin classic "The Gold Rush."
&nbsp
Many years later, the organ was purchased from the college by an individual from Portland and has since been broken up for parts.
&nbsp

---