---
Grand Theatre - 2/5 Kimball
Seattle, Washington
140 N. 85th St.
&nbsp
Back to the Washington Original Theatre Installations page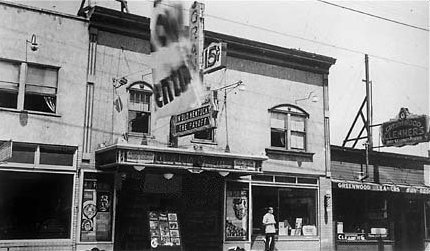 Grand Theatre, c.1936. Photo courtesy Taproot Theatre.
&nbsp
Records indicate the Grand Theatre Kimball was originally installed in Salem Oregon's Heilig Theatre in 1925. It was later relocated to Seattle's Grand Theatre (minus the console) but the exact date is unknown.
&nbsp
In 1931 the organ was moved to KOL Radio by Balcom & Vaughan. It was later sold to a private party and eventually broken up for parts.
&nbsp
Located in Seattle's Greenwood neighborhood, the Grand Theatre building still exists. After a renovation in 1996, the 228 seat theatre is now owned and operated by the Taproot Theatre Company.
---
Perhaps from an earlier location of the Grand Theatre, the following program pages are from 1915:
&nbsp
Pages from a Grand Theatre program. The film "The Mummy and the Humming Bird" was made in 1915.
---