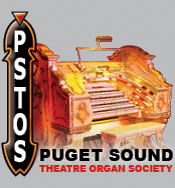 ---
Grand Theatre - 2/7 Kimball, 3/ Kimball & 2/3 Robert Morton
Bellingham, Washington
1224 Commercial St.
Organ installation timeframes:
1st organ, 2/7 Kimball: - 1912
2nd organ, 3/ Kimball: 1916 -
3rd organ, 2/3 Robert Morton: 1927 -
&nbsp
Back to the Washington Original Theatre Installations page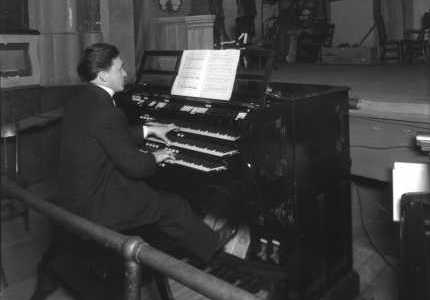 Ed Ahern at the three-manual Kimball, date unknown
&nbsp
The Grand Theatre was owned by William Southern. Mr. Southern was born in Lancashire, England and was employed in coal mines for most of his younger years. He worked in several U.S. cities doing vaudeville before coming to Washington in 1904.
&nbsp


Grand Opening following remodel, c.1916
The first Grand Theater opened on March 27, 1905 at 127 West Holly Street. It was one of Bellingham's most popular vaudeville houses.
&nbsp
In 1912, the theater was torn down to make way for the new J.J. Donovan Building that was built on the site. A new Grand Theater was erected at the same time, behind the Donovan Building, at 1224 Commercial Street. An entrance to the theater was maintained on Holly Street at roughly the location of the original Grand. The new Grand Theater featured motion pictures.
&nbsp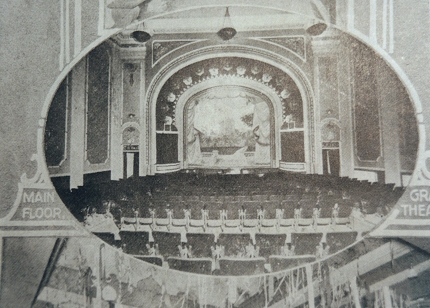 Grand Theatre auditorium, c.1916
&nbsp
Records show three different theatre organs associated with the Grand Theatres:
&nbsp

2/7 Kimball tubular pneumatic instrument, install date unknown, but most likely installed at the original 1905 location.
3/ Kimball instrument, installed 1916 at a cost of $18,000
2/3 Robert Morton, installed 1927.
&nbsp
Chambers for the 1912 building were located above the proscenium in the ceiling of the theatre. According to those that heard it, when Ed Ahern would let go with full organ, the ceiling would actually shake and the light fixtures would have a bit of movement.
&nbsp

In the 1930's, the Commercial St. entrance was converted to an exit and the long hallway exit on Holly St. became the new entrance.
&nbsp
In 1931 the theatre's name was changed to OUR Theatre when Howard Hughes had it for a short time. The Wahl family (owners of Wahl's Department Store in the same building) took back the operation after Hughes pulled out. When Wahls enlarged their store in 1957, the long hallway entrance on Holly Street was incorporated into the store and the Commercial Street entrance was again used.
&nbsp
The last operator of the Grand was SRO and this lease lasted through December 31, 1973 with the showing of Last Tango in Paris.

Commercial Street, early 1930s
&nbsp
According to Jeff Fox of Bellingham, his Great Aunt Sylvia Brown played for some of the movies on the piano.
&nbsp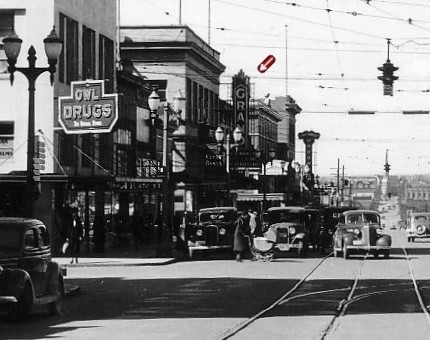 Street scene showing Holly Street entrance, c.1940's
&nbsp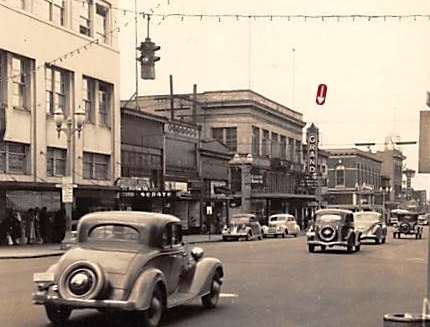 Grand Theatre on left, c.1940s
&nbsp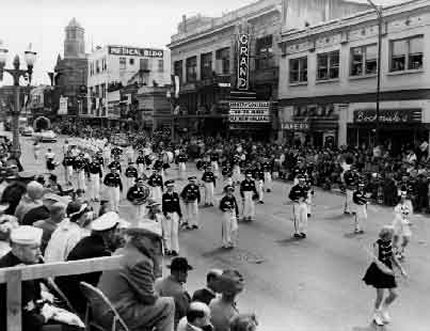 Holly Street May 1953, most likely during the annual Blossom Time Parade. Photo by Jack Carver, courtesy Whatcom Museum of History & Art
&nbsp

---
The Grand Theatre met with the wrecking ball in July, 1974.
&nbsp
When the wide screen was installed, all plaster & second proscenium arch was stripped to bare cement and the stage was extended. According to Jeff Fox, the Echo division grill work could still be seen in the attic before demolition. July 1974. &nbsp
Photos and historical facts, courtesy Jeffrey Fox 2000.
---