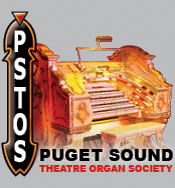 ---
Butte Residence - 2/9 Wurlitzer
Anchorage, AK
Organ installation timeframe: 1964(?) - 1979
&nbsp
Back to the Northwest Theatre Organ History: Residences page

Frank Butte at his 2/9 Wurlitzer
The Frank Butte Wurlitzer (opus 569) was originally from a theatre (name unknown) in Corvallis, Oregon. It was installed in 1922. After several owners, including a church, Frank Butte acquired the instrument in 1964. It was originally 2/7, but Frank added two more ranks.
&nbsp
Frank was involved in the acquisition and installation of a 3/8 Morton at Uncles Pizza restaurant in Anchorage. He also performed as an organist there for several years.
&nbsp
Frank died February 1, 1979. His residence organ was purchased from the estate by J. Allan & Margaret MacKinnon of Juneau, Alaska.
---