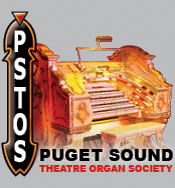 &nbsp




Welcome to the Puget Sound Theatre Organ Society, a non-profit organization furthering the appreciation, preservation and use of the Theatre Pipe Organs of yesteryear. PSTOS serves Washington, Oregon and the entire Pacific Northwest.
---
Andy Crow (1933-2016)
We're sad to report the passing of Northwest theatre organ legend Andy Crow on July 12, 2016. Last October, PSTOS members paid tribute to Andy at a special event honoring his many contributions to the world of theatre organ. Click here to see the slide show.
Join PSTOS or renew your membership online!
PSTOS has partnered with PayPal to provide a secure way for you to join or renew online using a credit card.
Sign-up for PSTOS E-mail Alerts!
Sign-up to receive e-mail updates with the latest PSTOS news, concert announcements and Northwest Theatre Organ happenings! Also, sign-up to receive e-mail notifications when pages are added to the PSTOS web site!
Read More News
---